Nevada begins selling legal recreational marijuana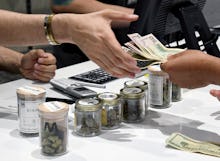 At midnight on Saturday, Nevada became the fifth state — after Colorado, Oregon, Washington and Alaska — to allow sale of recreational marijuana, the Associated Press reported. Thanks to its tourism economy, Las Vegas, Nevada, is expected to be a booming market for sales.
According to the Las Vegas Review-Journal, 44 dispensaries opened across the state, with forty of them in Southern Nevada, which includes the Las Vegas Valley. Several stores opened at the stroke of midnight to service eager customers. However, zoning ordinances force the stores to close at 3 a.m. and open again at 6 a.m.
Hundreds of people stood in line waiting at Essence Cannabis Dispensary on the Las Vegas Strip for the law to go into effect. According to the Associated Press, cheers broke out when they opened the front door and a valet parked customers' cars.
Smoking in public areas, including the Las Vegas Strip, is still illegal and comes with a hefty $600 fine. Driving under the influence is illegal, as well.
Nevadans voted to legalize marijuana on November's election ballot. Early timelines said dispensaries would not open until 2018. It's estimated that dispensaries in Nevada could generate $393 million in tax revenue for the state in 2018.