Trump slams Mika Brzezinski and Joe Scarborough again in early morning Twitter rant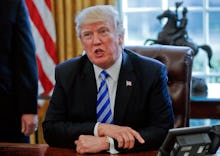 President Donald Trump continued to use Twitter on Saturday morning to speak directly to the people. This time, he continued his attacks on news media and addressed his ongoing feud with MSNBC anchors Joe Scarborough and Mika Brzezinski.
"Crazy Joe Scarborough and dumb as a rock Mika are not bad people, but their low rated show is dominated by their NBC bosses," he wrote. "Too bad!"
Trump's tweet come only one day after Brzezinski and Scarborough slammed Trump in a scathing op-ed in the Washington Post. They characterized Trump's obsession with their show as "unhealthy."
"President Trump launched personal attacks against us Thursday, but our concerns about his unmoored behavior go far beyond the personal," Brzezinski and Scarborough wrote. "We are both certain that the man is not mentally equipped to continue watching our show, Morning Joe."
Trump faced heavy criticism from both parties on Thursday after issuing a tweet in which he made reference to Brzezisnki bleeding after having had a face lift.
Trump used his time on Twitter Saturday morning to comment on several other events in the media this week, including the firing of Greta Van Susteren and the firing of three journalists at CNN.
Van Susteren was abruptly terminated from her MSNBC show for lagging ratings on Thursday, a move Trump claims was because execs were mad she "refused to go along with Trump hate!"
Trump also slammed CNN, who he has long claimed is "fake news." This week, three journalists resigned from CNN after an anonymously-sourced story stated that the Senate Intelligence Committee was investigating ties between a Russian investment firm and a member of Trump's presidential transition team. CNN retracted the story saying it "did not meet CNN's editorial standards."
After the story was removed, self-proclaimed "guerrilla journalist" James O'Keefe leaked a video allegedly depicting CNN producer John Bonifield implying that stories about the connection between Trump and Russia are ratings-driven.