Trump went all of June without acknowledging LGBT Pride Month, but he is all over Canada Day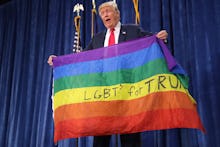 It's the first day of July and Trump wants to wish everyone, especially Canadian Prime Minister Justin Trudeau, a Happy Canada Day.
Trump extended a "Happy Canada Day" to all Canadians on Twitter just moments before unleashing a rant against the news media, especially Morning Joe cohosts Mika Brzezinski and Joe Scarborough.
Seeing how easy it is to acknowledge a holiday, it's even more puzzling that, for the previous 30 days, Trump said absolutely nothing about LGBT Pride Month, despite his campaign-season claims that gay people loved him.
Two days into June, Trump apparently reversed an Obama-era practice of declaring Pride Month on May 31. Instead, he declared June "Great Outdoors Month," "National Ocean Month" and "National Homeownership Month."
Throughout June, that silence toward the LGBT community continued.
Throughout June, BuzzFeed emailed the White House press office every day, asking whether an announcement was forthcoming. On June 19, after almost three weeks of emails, the official White House press account told the website they were inquiring at the wrong email address — which it wasn't — and directed them to email someone else.
On June 1, House Minority Leader Nancy Pelosi issued a statement honoring LGBT Pride Month that also shaded Trump for not officially recognizing the month. She highlighted some of the ways — proposing cuts to HIV prevention and treatment, declining to count LGBTQ people in the census and rescinding Obama's Title IX directive, which told schools to allow transgender students to use the restroom of their choice — that Trump had done harm to LGBTQ Americans.
The only member of the Trump family that did acknowledge LGBT Pride Month was Ivanka Trump, who put out two tweets on June 1 acknowledging the month and celebrating LGBTQ people who "have made immense contributions to our society and economy."
The Department of Justice did hold a Pride Month event, where Gavin Grimm, the trans teen whose case almost went to the Supreme Court, was honored. Attorney General Jeff Sessions supported the event, according to BuzzFeed.