Why have women been shut out from the top of the Billboard Hot 100 lately?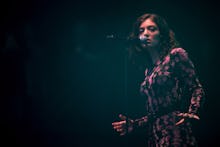 Before Monday, June 26, the last time a woman landed a song in the top five of the Billboard Hot 100, Roger Ailes was still alive and Bill O'Reilly was still at Fox News. For 12 weeks straight this spring, the top five featured only men — the longest such drought on that chart since 1972. Throughout the entire month of April, no women even gained footing in the top 10 — that was the first month that's happened since 1984. Rihanna recently broke the streak, with the no. 4 debut (now no. 3) of her fiery performance on the Santana-sampling "Wild Thoughts."
But that song is technically DJ Khaled's (yes, another one), not that he'd let you forget it. He shouts his name in the first 10 seconds. Scrolling through the charts, it's all dudes until no. 16, where Julia Michaels's "Issues" sits.
Pop charts go through cycles, but it's striking to see women so under-represented. It's true that many of pop's leading ladies are in the offseason — Beyoncé, Taylor Swift, Ariana Grande, Rihanna currently are not promoting new albums. But it's not like there are no major female pop stars putting out records.
Katy Perry has historically ran a clinic with the charts, but her latest record, the recently released Witness, only managed to notch a no. 4 hit, with the anthem "Chained to the Rhythm" in March. Halsey and Lorde drew heaps of praise online with the highly detailed, minimalist pop affirmations they collected in Hopeless Fountain Kingdom and Melodrama, respectively. Both of those artists just earned their first no. 1 albums, but none of their new songs have managed to reach the upper echelon of the singles chart. Women still enjoy a significant presence on the adult contemporary and the pop singles chart, but they simply can't seem to take Billboard's top honors with the same ease as they once did.
"I don't know for a fact how much actual sexism plays a part in the lack of female representation at the top of the charts. It would probably be naive to assume it carries 0% of the effect," Andrew Unterberger, senior associate editor at Billboard (on the editorial, not the chart side of the brand), said in a phone conversation. "It's hard to say what kind of industry double standards are being set."
Would a woman pop star be afforded the same opportunities as Justin Bieber, had she suffered as many public gaffes and hits to her reputation as he did a few years ago? Would a woman pop star get away with giving profoundly unlikable interviews, like the Chainsmokers, and still be inescapably popular?
A more quantifiable metric for pop's gender divide can be found in the inner-workings of today's charts themselves. Streaming has become a vitally important player in the pop marketplace, and it's beginning to rival radio in its ability to support and sustain musical careers. Billboard began tabulating streams into the Hot 100 chart in 2007, and updated their tabulation methods to count 1,500 song streams as an album sale in 2014. Today, hip-hop and EDM generally rule streaming — two genres that, historically, also happen to be dominated by male musicians. A look at Spotify's charts shows a vision of music commanded almost entirely by men.
The artists that continue to chart extremely well make music that fits more naturally into these two genres. Perry has been dabbling in various crossovers into that space with increasing frequency over years, collaborating with Juicy J for "Dark Horse" off of 2013's Prism, and more recently with Migos for "Bon Appétit" and Lil Yachty for her "Chained the Rythm" remix. For her latest promotional campaign, on behalf of the recently released Witness, critics have noted that Perry's attempts to capitalize on black cool have felt extraordinarily half-baked and problematic — more like they're the product of focus group insights, rather than any kind of sincere inspiration.
But the inability to author a convincing trap mix is not the one thing keeping women off of the top of the charts. There probably isn't a single reason — it's likely a confluence of factors, and you're going to hear about certain issues depending on who you ask.
"There's not enough real A&Ring happening, and the artists are the ones suffering," said Nick Jarjour, the youngest partner at the management company Maverick, which manages Nicki Minaj, Miley Cyrus and Fifth Harmony. "These wonderful artists, that you're like, 'Why is this superstar female not [succeeding]?' It's not because of her. She's a fucking queen. It's the teams, it's the A&Rs, it's everything else around them that doesn't understand the creative process. Those are the people that are fucking up."
It's also entirely possible the charts simply haven't caught up to how pop songwriting is developing. Selena Gomez's latest single, the talking heads-sampling "Bad Liar," has been widely praised across music media and by fans online. But it isn't getting much radio play, likely in part because it sounds so radically different from the songs dominating the rotation. It seems to have peaked at no. 20.
In an article contemplating why "Bad Liar" hasn't managed to really take off yet, Billboard noted that recent "left-of-center or downright weird" female-led pop songs (such as Lady Gaga's psychedelic "Perfect Illusion" or the "incorrect songwriting" of Lorde's "Green Light") have soundly flopped. Compare that with curious pop gambits from male acts: Future's woozy, mystical flute-driven ode promethazine "Mask Off," or the Sly Stone seance that is Childish Gambino's "Redbone," which haven't had nearly the same difficulty connecting with audiences and have charted well, peaking at no. 5 and 14, respectively. Looking at that data, it's tough not to feel like there is indeed a double standard at play — when pop's leading men experiment, they don't have to worry about losing the attention of radio or users on streaming services; when women do, they risk it all.
Rihanna's "Wild Thoughts" is about as safe and well-calculated a radio play as they come — sample a beloved Latin fusion radio hit, pair it with a feminist thirst-trap music video — but it's still a DJ Khaled song. We're still waiting for women to re-enter the top tier with their own songs. It will happen. The question is when, and what that music will sound like when it does — because the singles that are coming out now, however unfair it may seem, just aren't connecting.
Mic has ongoing music coverage. Follow our main music hub here.