SNES Classic Preorder FCC Certification Delay: Nothing points to a problem with the SNES Mini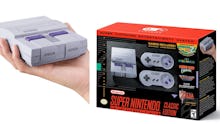 While Europe and Japan's SNES Classic preorders have come and already sold out, North America's haven't even begun yet for the most part. Several publications have reported in the last few days that this was because the SNES Classic hasn't been certified by the FCC. All this speculation started in a post on I4U that lacks any source and, as we've discovered during our research, is likely incorrect.
SNES Classic preorders: The SNES Mini doesn't have to receive FCC certification to be sold in North America
As reported by I4U, the SNES Classic hasn't received formal certification from the FCC. That's correct, but then again, neither has the NES Classic. FCC certification is required for many consumer devices but primarily targets devices that generate radio waves. The reason the Xbox One X, which was referenced in the I4U article, is still awaiting certification is that it has onboard Bluetooth and WiFi radios, so it requires expressed approval from the FCC to be sold in the U.S.
The SNES Classic, on the other hand, doesn't have any components that purposefully generate potentially interfering radio waves. The console has no Bluetooth or WiFi, its controllers are wired and it connects via the non-RF dependent HDMI standard. This means that it's likely that Nintendo would only have to get FCC verification or a declaration of conformity.
Taken from the FCC page on equipment authorization procedures under the verification section:
It is not required to file an application with a TCB, and equipment authorized under the verification procedure is not listed in any Commission database.
Likewise for the declaration of conformity section:
The responsible party is not required to file an equipment authorization application with the Commission or a TCB, and equipment authorized under the DoC procedure is not listed in any Commission database.
Unlike products that receive an FCC certification, those that are eligible for the verification or declaration of conformity process are not publicly listed. Since the NES Classic isn't listed in the FCC certification database and the SNES Classic is probably very similar in construction, we can assume that both of those devices probably fall under one of those two categories.
SNES Classic preorders: So what's the real reason for no North American preorders?
Since the FCC has nothing to do with the lack of available SNES Classic preorders, then what's the hold-up? One of the reasons preorders may not be available is because of the absolutely farcical retail situation that happened with the NES Classic. Besides the lack of supply to fill demand, scalpers bought a ton of the available units to sell on Ebay and Craigslist.
If anything, it might be the retailers themselves that are asking Nintendo to delay preorders so they can get measures in place to make sure that scalpers don't snatch up all the systems they can. Nintendo may also be delaying the process so that it can get an accurate count on how many units it'll be able to send out.
The North American market is much larger than the European and Japanese markets, so it may just take them some extra time in comparison to make sure that the release here goes as smoothly as possible. Regardless of the reason, it's evident that fans are pumped for the SNES Classic. Hopefully, we'll all get a chance to get our hands on it when it's released Sept. 29.
More gaming news and updates
Check out the latest from Mic, like this essay about the sinister, subtle evils lurking in rural America that Far Cry 5 shouldn't ignore. Also, be sure to read our review of Tekken 7, an article about D.Va's influence on one Overwatch player's ideas about femininity and an analysis of gaming's racist habit of darkening villains' skin tones.