Henry Bello, Bronx-Lebanon Hospital shooter, may have had a history of sexual misconduct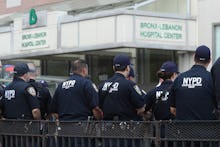 Henry Bello, the doctor authorities identified as the man who killed one and wounded six others before killing himself at New York's Bronx-Lebanon Hospital Friday, allegedly threatened to return and shoot coworkers when resigning in 2015.
Bello, a black man, said he felt discriminated against by other staff at the institution and resigned "amid sexual harassment allegations," CBS 2 reported.
"He said he was going to do this two years ago when they fired him, he said he was going to kill people," Dionne Morales, who worked at the hospital, told CBS 2. "I didn't hear him say that amongst us. I know he said it and he did it."
A hospital spokesman confirmed to the network that Bellow resigned "in lieu of termination" in 2015.
Bello shot through two floors of the building with an AR-15 rifle he sneaked in under a lab coat, setting two fires before shooting himself. Of the six wounded, five had life-threatening injuries.
According to the New York Times, the hospital said when it hired Bello, it was unaware he had pled guilty to a misdemeanor unlawful imprisonment charge in relation to an alleged sexual assault in 2004. However, his 2015 resignation was apparently triggered by a separate allegation of workplace sexual harassment.
Sources told CNN Bello was looking for a specific colleague to murder during the rampage and yelled "Why didn't you help me when I was getting in trouble?" before opening fire. He did not manage to hit that colleague, but did murder 32-year-old doctor Tracy Sin Yee Tam, who was there to cover another doctor's shift.
"The doctor whom Bello is believed to have sought Friday told investigators that Bello, when he worked at Bronx-Lebanon, was belligerent and difficult to work with, and got into disputes with nurses and other staffers, law enforcement sources said," CNN wrote.