Former Fyre Fest exec: We promised people money we didn't have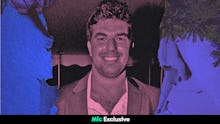 A day after William "Billy" McFarland, organizer of the disastrous Fyre Music Festival, was arrested by federal agents and accused of defrauding investors, his former chief revenue officer told Mic that McFarland had at times instructed him to promise festival vendors money that Fyre organizers didn't have.
According to Jason Ve, Fyre's former CRO, McFarland directed him on multiple occasions to tell vendors — those bringing the necessary resources to Great Exuma island in the Bahamas for the luxury festival — that they would be paid through wire transfers, even though one of the Fyre bank accounts did not actually have sufficient funds.
"There were times where the balance in one of Fyre's bank accounts would be lower than what Billy was asking me to send to the vendor," Ve told Mic in a phone interview. "I would raise these concerns to Billy and he would assure me that the money promised to vendors would eventually be there."
"Sometimes the money went through, which gave me confidence that he would be able to pay vendors," Ve said.
But other times, the payments wouldn't go through. Many vendors continue to say they have not been paid for their work on the doomed festival. But when Ve reported back that vendors were complaining about not getting paid, he told Mic, McFarland would assure him that he had obtained investment funding that would be used to pay the vendors in full.
"Now it's clear I was being misled," Ve said.
Ve said that, despite his role as chief revenue officer, only McFarland had complete transparency into the company's finances. "Billy was the only one who had the complete picture of the full finances and operations of the company," Ve said.
Neither McFarland nor his public defender responded to Mic's request for comment.
Screenshots of wire transfers that never came
The actions described by Ve present a pattern — also documented through interviews with Fyre vendors and staff — that shows McFarland repeatedly reassuring vendors that payments were on their way, on multiple occasions even sending them what appeared to be proof of wire transfers leaving Fyre's bank account.
Ve said that McFarland would send him screenshots from Fyre's bank accounts that appeared to show a wire transfer had been prepared for a vendor. McFarland or Ve would forward the screenshots along to the vendors.
"Billy had multiple bank accounts for Fyre, some of which only he had access to, which clouded the finances of the company," Ve said. "To deal with vendors, he sometimes asked me to send screenshots of wire payments, at times he sent screenshots from other accounts and, other times, they came from a personal banker."
One of those vendors, Luca Sabatini, co-owner of the Miami-based production company Unreal-Systems, signed on to provide the festival with millions of dollars' worth of high-end stage, lighting and sound equipment.
In a phone interview, Sabatini said that in the days leading up to the festival, McFarland sent him a screenshot of an apparent wire transfer from a Fyre bank account as proof that a payment had been sent. As a result, Sabatini sent equipment — worth over $8 million dollars, he said — to the Bahamas.
The wire transfer never posted to Sabatini's bank account. "We don't know exactly what happened to it, but we never got it," he said.
With his equipment stuck on the island, Sabatini confronted McFarland about why he never received the payment he was promised. According to Sabatini, McFarland repeatedly assured him that the payment would eventually come through. Based on these assurances, Sabatini set up his equipment on the island in preparation for the festival.
But that wire transfer never arrived, and Sabatini still has not been paid in full for his services, more than two months after McFarland told him he would receive the wire.
"We don't know exactly what happened to it, but we never got it."
Moreover, Sabatini only recently managed to retrieve his high-end equipment back from the Bahamas. It had been held for weeks by the Bahamian Ministry of Tourism because McFarland and his co-founder, Ja Rule, never paid more than $330,000 of outstanding customs fees to the Bahamian government.
Sabatini said his company took a major hit as a result.
"It was a loss of a huge amount of money," Sabatini said. "It also caused a lot of damage for our partner companies nationwide who had rented us some of the equipment."
Mic spoke to six additional sources with knowledge of Fyre's financial dealings. Each one described a similar pattern of individuals failing to receive wire transfer payments they were promised. All of the sources requested anonymity for fear of legal retaliation.
Two sources said they, too, received screenshot images from McFarland, or from Ve on McFarland's behalf, that appeared to show that payments had been sent. In each of those instances, the sources said the payments from those wires never came. Two additional sources described receiving screenshots of alleged wire transfers from Fyre, but did not specify which staff member sent them.
Mic has obtained two such screenshots, provided by a source with knowledge of the matter. Upon examination, both screenshots lack crucial details that would confirm whether the payments were actually sent.
The first screenshot, which appears to come from Fyre's Chase bank account, seems at first to be a confirmation of a wire transfer. But it's actually from a preview page that asks the sender to verify that all the information for the wire is accurate.
In addition, the federal reference number field at the bottom reads "N/A," leaving it ambiguous as to whether the transaction was ever completed. (Mic has obscured any personal details that could be used to identify the recipient.)
The second screenshot also shows a wire verification page, not a final confirmation. Here, too, the image has been cropped directly below the "Transaction number" line — completely omitting the federal reference number, which would have helped the recipient track the payment.
In each of these instances, according to the source, the money that was promised in the screenshots never actually posted to the recipient's account.
"Lying to them to get something out of them isn't just wrong — it's a crime."
Mic provided both wire transfer screenshots to Renato Mariotti, a Chicago trial attorney and former federal prosecutor who focused on securities and commodities fraud.
"When you don't have money to pay what you owe, the right thing to do is to tell the other person and ask for more time," Mariotti said. "Lying to them to get something out of them isn't just wrong — it's a crime."
If the transfers McFarland said he was sending evidence of did not go through, Mariotti said, they were "false statements."
"That means that McFarland defrauded the vendor who relied on that false statement if he knowingly and intentionally made that fraudulent statement," he said.
McFarland has been charged with a different crime. According to a joint press release from the Manhattan U.S. Attorney's Office and the FBI, McFarland was charged with "wire fraud in connection with a scheme to defraud investors."
In their statement, the FBI and the Manhattan U.S. Attorney's office said McFarland "provided materially false information" about his company in order to persuade "at least two individuals to invest approximately $1.2 million" in Fyre by claiming his company had earned millions in revenue from artist bookings between July 2016 and April 2017.
According to the statement, McFarland had only raised $60,000 during that period.
"As alleged, William McFarland promised a 'life-changing' music festival but in actuality delivered a disaster," acting Manhattan U.S. Attorney Joon H. Kim said in the release. "McFarland allegedly presented fake documents to induce investors to put over a million dollars into his company and the fiasco called the Fyre Festival. Thanks to the investigative efforts of the FBI, McFarland will now have to answer for his crimes."
The FBI and United States Attorney's Office's joint statement does not mention McFarland and Fyre executives' interactions with vendors.
McFarland has been released on a $300,000 bail after spending the previous evening at a detention center in Brooklyn. At his first hearing, he was represented by a public defender.
In addition to the federal charges against McFarland, he and Ja Rule face multiple lawsuits alleging fraud, breach of contract and more, including a $100 million class-action lawsuit alleging that the organizers were aware of the trouble months before the festival was scheduled to take place.
Mic uncovered a trove of internal emails detailing what happened in the leadup and aftermath of Fyre Festival. This is the second of several additional stories about Fyre that will be published. If you have any tips or leads, let us know.