Donald Trump defends social media use on Twitter, tweets clip of himself beating up "CNN"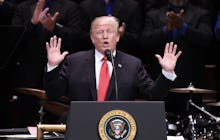 President Donald Trump took to Twitter once again Saturday evening and Sunday morning to defend his controversial use of social media — and tweet a video of himself assaulting a figurative CNN.
In the wake of recent criticism from those on both sides of the aisle regarding his Twitter comments about Morning Joe hosts Joe Scarborough and Mika Brzezinski, Trump claimed in a tweet on Saturday that his use of social media is "not presidential — it's modern day presidential."
Trump also lashed out at the media in his Saturday tweets, using Twitter to once again mention his election win despite the "fake and fraudulent news media" and suggesting that he change his moniker for leading news source CNN from "#FakeNewsCNN" to "FraudNewsCNN."
On Sunday morning, Trump followed up his CNN tweets by posting a video from one of the president's WWE appearances, in which Trump wrestles a man to the ground — whose head, in the tweet, has now been covered by the CNN logo.
The video was posted a few days ago on Reddit in a pro-Trump subreddit, journalist Brian Stelter noted on Twitter. Trump's sharing of the video was retweeted by the official @POTUS Twitter account.
The tweet, which seemingly encourages violence toward reporters, comes less than two months after Montana Republican Greg Gianforte was charged for assaulting Guardian reporter Ben Jacobs during Gianforte's congressional campaign.
It also comes just a few days after deputy White House press secretary Sarah Huckabee Sanders claimed during a press briefing that the president "in no way, form or fashion has ever promoted or encouraged violence."
Trump's Twitter criticisms about the media were echoed by the president in person over the weekend during a speech he delivered to supporters at a faith rally in Washington, D.C.
"The fake media is trying to silence us," Trump said at the rally, according to the New York Times. "But we will not let them. Because the people know the truth. The fake media tried to stop us from going to the White House. But I'm president and they're not."