Rapper Finese 2Tymes arrested in Birmingham, Ala. on charge unrelated to shooting at his concert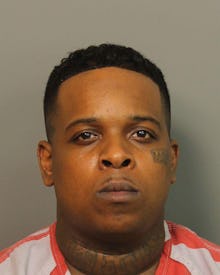 Prison records seen by the Associated Press show rapper Finese 2Tymes, who was born Ricky Hampton, was arrested in Birmingham, Alabama, just one day after a shooting at one of his concerts in a Little Rock, Arkansas, nightclub.
According to the AP, the Marshal Service said 2Tymes and one other man were arrested on a "fugitive from justice" warrant.
ABC News identified the other man as Kentrell Gwynn.
Though some reports note that it is unclear whether their arrest has any connection to the Saturday shooting at 2Tymes' concert at Power Ultra Lounge in downtown Little Rock, a tweet from Little Rock Police says 2Tymes' arrest was over "outstanding warrants out of Forrest City."
Law enforcement said the shooting at Power Ultra Lounge may have been gang-related.
"This does appear to be a continuation of disputes from some of our local groups," Little Rock Police Chief Kenton Buckner said Saturday, "You've seen some of the things playing out in our streets that has resulted in drive-by shootings."
In a Saturday statement on a Facebook page that appears to belong to Finese 2Tymes, the rapper condemned the violence at his concert.
"The violence is not for the club people. We all come with one motive at the end of the day, and that's to have fun, not be hurt," 2Tymes wrote.
According to a statement from law enforcement, all the wounded at his concert are expected to survive.