Homeland Security Adviser Thomas Bossert awkwardly defends Trump's latest controversial tweet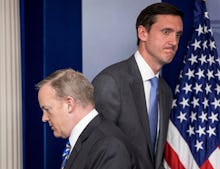 On a planned Sunday morning appearance of This Week, White House Homeland Security Adviser Thomas Bossert had no choice but to awkwardly defend President Donald Trump's Sunday morning tweet that shows a video of the president pummeling a man with a CNN logo over his head at a wrestling event.
"Obviously President Trump has taken some video and put a CNN mic logo on who he's beating up," This Week host Martha Raddatz said to Bossert."
Rather than address any specific moment from the video the president tweeted, Bossert, who said it was his first time seeing the video, continued the apparent White House strategy of framing Trump as a victim forced into defensive maneuver by an unfair and overly critical media. He also praised Trump for his ability to use social media to connect with the American people.
"There's a lot of cable news shows that reach directly into hundreds of thousands of viewers, and they're really not always very fair to the president," Bossert said. "I'm pretty proud of the president for developing a Twitter and social media platform where he can talk directly to the American people. He's demonstrated — whatever the content of that particular tweet is or any tweet — he's demonstrated a genuine ability to communicate to the people."
But host Raddatz continued to grill her guest, deferring to his expertise as homeland security adviser when suggesting that some could interpret the president's tweet as a threat against the media.
Bossert continued to deflect.
"I think that no one would perceive that as a threat. I hope they don't," he said. "But I do think that he's [being beaten] up in a way on cable platforms that he has a right to respond to. And he does that regularly."
"And you don't think that's a threat to anyone. You don't think that's sending a message: Do that to the media. Do that to CNN?" the This Week host asked.
Bossert again deflected, suggesting that the controversial content of the tweet spoke to what some voters saw as Trump's authenticity.
"No, I certainly don't. I don't think so. And I think that importantly here, he's a genuine president expressing himself genuinely," Bossert said. "And to be honest, I think that's why he was elected."
The footage in Trump's Sunday morning tweet comes from 2007 WrestleMania, wherein Trump clotheslined WWE owner Vince McMahon, beating him to the ground. In the video from Trump's tweet, someone has edited CNN's logo over McMahon's head.
Some of Trump's most outspoken critics have interpreted the tweet as an incitement of violence against media.
The tweet continues a recent spate of increasingly bizarre Twitter behavior from President Trump. On Saturday, Trump defended his use of social media as "modern day presidential." On Thursday, Trump attacked Morning Joe host Mika Brzezinski on Twitter, saying that she was bleeding from recent plastic surgery when she and cohost and fiancé Joe Scarborough begged the president to join them for New Year's at Mar-a-Lago, the president's resort.