Republican Senator Ben Sasse criticizes President Trump for trying to "weaponize distrust" of media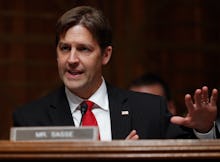 At a Sunday appearance on CNN's State of the Union, Sen. Ben Sasse (R-Neb.) criticized President Donald Trump for "[weaponizing] distrust through his increasingly disparaging rhetoric against the news media at large."
"There's an important distinction to draw between bad stories or crappy coverage and the right that citizens have to argue with or complain about that. ... and trying to weaponize distrust," Sen. Sasse said in an interview with host Jake Tapper. "The First Amendment is the beating heart of the American experiment, and you don't get to separate the freedoms that are in there."
"We have a risk of getting to a place where we don't have shared public facts," the Republican senator said.
Though Sasse's comments did not single out any of Trump's many recent attacks against the media, his criticisms could be construed as applying to Trump's bizarre, erratic offensive against CNN and Morning Joe hosts Joe Scarborough and Mika Brzezinski.
On Sunday morning, Trump tweeted a video containing footage from 2007's WrestleMania showing the real estate mogul beating WWE owner Vince McMahon to the ground — only in Trump's tweet, the CNN logo was edited over Vince McMahon's face.
Some suggested the president's tweet could be construed as an incitement to violence against the press over its unfavorable coverage of Trump's administration. Many drew a connection between the violence in it and the May incident when then-GOP congressional candidate Greg Gianforte body-slammed Guardian reporter Ben Jacobs on the day before Gianforte would win the special election.
On Saturday evening appearance at the Kennedy Center, President Trump suggested that newsrooms in 2016 schemed to keep Trump out of the White House.
"The fake media is trying to silence us, but we will not let them," Trump said. "The fake media tried to stop us from going to the White House, but I'm president and they're not."
Though Trump argued the media is attempting to "silence" him, a May survey from the Media Research Center showed otherwise: CNN, one of Trump's preferred targets for his invective, devoted a whopping 92% of its coverage to Trump stories.
On Thursday, President Trump attacked Morning Joe hosts Joe Scarborough and Mika Brzezinski on Twitter for criticizing his presidency. Brzezinski bore the brunt of the president's most vicious criticism when he tweeted that she was bleeding from a nose job when she begged Trump to spend time with her and Scarborough at Mar-a-Lago, the president's Florida resort.