July 4th Fireworks: Here's how to watch the firework displays in New York City and Washington, DC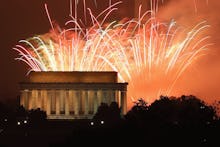 Firework displays will take place in towns and cities across the country to commemorate July Fourth on Tuesday, giving Americans hundreds of pyrotechnic shows from which to choose. But few can compare to the fireworks in New York City and Washington, D.C. — and those who aren't in town can still catch these spectacular displays.
Here's how to watch the two cities' July Fourth celebrations on Tuesday night, no matter where you are in the country.
Washington, D.C.
The nation's capital will mark Independence Day with its traditional fireworks display on the National Mall, which will kick off after sunset around 9:00 p.m. Eastern time. The fireworks will be launched from behind the Reflecting Pool, and viewers can see the show amidst the patriotic backdrop of the Lincoln Memorial, Washington Monument and U.S. Capitol Building.
If you can't be in D.C. to witness the fireworks display in person, the show will be broadcast on PBS's annual program A Capitol Fourth. In addition to fireworks, the broadcast will be hosted by John Stamos and include performances by The Beach Boys, The Blues Brothers, Broadway star Laura Osnes, The Four Tops, Trace Adkins, the U.S. Army Band and more.
The PBS broadcast will take place live from 8:00 to 9:30 p.m. Eastern time, though viewers should check their local PBS station listings.
If you can't watch the broadcast on television, PBS will also be streaming the fireworks broadcast on Facebook Live through the official PBS Facebook page.
New York City
The Big Apple's major fireworks display will take place over the East River, where barges will be set up between East 24th and East 41st streets. The 2017 Macy's 4th of July Fireworks are promised to be the city's biggest fireworks show in years, with 60,000 firework shells set to explode during the 25-minute show.
Tuesday's fireworks show will be the 41st anniversary of the annual celebration, which first started during the nation's bicentennial in 1976. In addition to the fireworks themselves, which are set to begin at approximately 9:25 p.m. Eastern time, the official fireworks broadcast will include performances by Jennifer Lopez, Brad Paisley, Sheryl Crow, Hailee Steinfeld, Lady Antebellum and Charlie Puth.
Viewers who can't see the festivities in person can watch the broadcast live on NBC, which will broadcast the fireworks show from 8:00 to 10:00 p.m. Eastern. Those without a television can also watch the broadcast live via NBC's mobile app on their phone or tablet, according to AM New York.