Judge in Brock Turner rape case speaks out for first time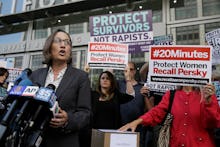 In the wake of a new petition for his recall, Judge Aaron Persky, who sentenced convicted rapist Brock Turner, is speaking out about his much-maligned decision for the first time.
"California law requires every judge to consider rehabilitation and probation for first-time offenders," Persky, a judge for the Superior Court in California's Santa Clara County, wrote in a statement quoted by the Associated Press, adding that he previously "fought vigorously for victims" as a prosecutor.
"As a judge, my role is to consider both sides," Persky's statement continued. "It's not always popular, but it's the law and I took an oath to follow it without regard to public opinion or my opinions as a former prosecutor."
Persky was criticized for his June 2016 judgement on Turner, a former Stanford University swimmer who was convicted of sexually assaulting an intoxicated and unconscious 23-year-old woman in January 2015. Turner was given only a six-month jail sentence — of which he only served three months — and Persky pointed to the "severe impact" prison would have on Turner to justify the lenient sentence.
"[When] it was quickly announced that he'd be receiving six months, I was struck silent. Immediately I felt embarrassed for trying, for being led to believe I had any influence. The violation of my body and my being added up to a few months out of his summer," the anonymous victim wrote about Turner's sentencing in November 2016.
Now, Persky's detractors are attempting to have the judge recalled for his controversial decision. Fifty California residents filed a petition on Monday calling for Persky's removal. The judge will now respond to the filing within seven days, after which the petitioners must collect 59,000 signatures from county residents.
If the petition is successful, Persky — whose term is set to expire in 2022, should he not be recalled — would have to run for election again in June 2018, according to SF Gate. Perksy's statement will appear on that ballot alongside the motion against him.
Persky's forced recall would be only the third time such a recall has happened in California, Stanford Law Professor Michele Dauber, who chairs the campaign to recall Persky, told SF Gate. The first instance took place in 1913, when San Francisco Judge Charles Weller drew the ire of California women by reducing bail for a man charged with assaulting two young girls.
"Just like the women in San Francisco in 1913," Dauber told SF Gate, "We're going forward (with) this, and we're going to prevail."