CNN issues response to controversial Trump tweet showing violence against the network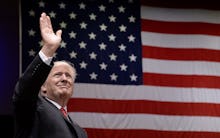 Shortly after President Donald Trump tweeted a video on Sunday showing him pummeling a man with a CNN logo for a head, CNN fired back with a scathing statement saying that the president wasn't doing his job, and that principal deputy White House press secretary Sarah Huckabee Sanders lied when she said that Trump never incited violence against the press.
"It is a sad day when the president of the United States encourages violence against reporters," CNN's statement read. "Clearly, Sarah Huckabee Sanders lied when she said the president had never done so."
CNN also attacked the president for prioritizing his "juvenile" tirade against a free press over his actual presidential duties.
"Instead of preparing for his overseas trip, his first meeting with Vladimir Putin, dealing with North Korea and working on his health care bill, he is instead involved in juvenile behavior far below the dignity of his office," CNN said.
"We will keep doing our jobs. He should start doing his," the statement concluded.
The news comes after Trump appears to have increased his offensive against the mainstream media for what he has characterized as unfair, biased and overly negative coverage of his presidential campaign and administration. At a Saturday appearance at the Kennedy Center, Trump suggested that the media tried to prevent his victory in the 2016 presidential election.
"The fake media tried to stop us from going to the White House," Trump said. "But I'm president and they're not."
Republican Sen. Ben Sasse on Sunday criticized the president for "[weaponizing] distrust" against the media, suggesting that it was an attack on the First Amendment.
"There's an important distinction to draw between bad stories or crappy coverage and the right that citizens have to argue about that and complain about that and trying to weaponize distrust," Sasse said in an interview with CNN's Jake Tapper. "The First Amendment is the beating heart of the American experiment, and you don't get to separate the freedoms that are in there."
Trump's latest controversial tweet features a video with edited footage from 2007's Wrestlemania, where Trump infamously clotheslined WWE owner Vince McMahon. In his Sunday tweet, McMahon's face is obscured by CNN's logo.