July 4 Video Games: Six patriotic titles to get you pumped for Independence Day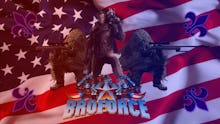 It's almost America's birthday, and there's no better way to celebrate your independence than binging on video games. We've assembled a list of the most patriotic games to ring in the Fourth of July the right way. Show the world your colors don't run, by picking one of the six titles below and pulverize Uncle Sam's enemies (and some people that he just kind of doesn't like).
America's Army: Proving Grounds
The America's Army series has the honor of being the only video game developed, published and distributed by the U.S. Army. The best thing about America's Army: Proving Grounds is it's free. Give it a shot — you'll probably wish you were just playing Arma 3 instead.
Assassin's Creed III
What better way to celebrate America's birthday than playing a video game set in the American Revolution? Assassin's Creed III is a great window to the past and besides the whole Templar and Assassin stuff, is probably somewhat education.
I thoroughly enjoyed this game, even though it's the entry that I think I've heard the most complaints about. The main character, Connor, is a little bland and the pacing was a bit off, but it's an interesting take on the birth of the United States.
Broforce
In Broforce you play as various "bros," hyper-violent and patriotic versions of fictional heroes. Nelson Brodela is your leader, and the bad guys want to hurt America, so you have to kill them. That's as in-depth as the plot gets, but the awesome Contra-style gameplay and over-the-top style make Broforce a blast to play.
Pretty much every Call of Duty
All the Call of Duty games feature at least a little bit of gameplay as a U.S. soldier. This first-person shooter series set the standard for control and arcade-style multiplayer, and the campaigns have that straight-up '90s action movie vibe. The writing isn't that good, but the tight controls and level variety makes playing through them a blast. Play a Call of Duty and feel the patriotic rush of mowing down Nazis and Ultranationalists today!
Saints Row IV
In this fourth entry in the goofy Saints Row series, you find yourself in the shoes of the leader of the 3rd Street Saints who has somehow gotten elected president of the United States. The humorous script and the fun open-world gameplay makes this an awesome game.
Wolfenstein series
There's nothing more patriotic than killing Nazis, and Wolfenstein is 100% about that. The recent Bethesda entries in the series are pretty awesome and have some memorable characters and plot, unlike the original few titles that were more arcade-ish. Celebrate your freedom by ending General Deathshead's this Independence Day!
More gaming news and updates
Check out the latest from Mic, like this essay about the sinister, subtle evils lurking in rural America that Far Cry 5 shouldn't ignore. Also, be sure to read our review of Tekken 7, an article about D.Va's influence on one Overwatch player's ideas about femininity and an analysis of gaming's racist habit of darkening villains' skin tones.