Beyond Skyrim Bruma Special Edition: When will the mod be ported from the original version?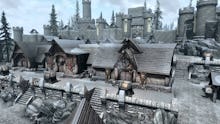 Beyond Skyrim has had its first chapter released which includes the city of Bruma. Unfortunately, only those who manage to install a copy of the original The Elder Scrolls V: Skyrim, not the Special Edition, can enjoy the new mod. However, those who have the Skyrim Special Edition installed don't have long to wait to get their chance at fun.
Beyond Skyrim: Bruma: What's included in the mod?
Eventually, the Beyond Skyrim project aims to bring the rest of the Elder Scrolls world to the game. The objective is to model the rest of the world as it is while the events of Skyrim are taking place, making all the new sections of land tell stories that weave together with the original scenario by Bethesda. The first release includes the county of Bruma and parts of Eastern Cyrodil.
Beyond Skyrim: Bruma: When can I play the mod on Skyrim: Special Edition on PC and Xbox One?
Unfortunately, when the mod released, it was compatible with the original Skyrim only. Fortunately, a representative of the mod posted on Reddit that the mod would be updated within the week to be compatible with Skyrim: Special Edition, which is what most Steam users have in their library at this point. Additionally, they mentioned that they would be trying to get the mod added to the Skyrim mod library on Xbox One, which will allow those players to enjoy it as well.
Beyond Skyrim: Bruma: Why won't the mod come to PlayStation 4?
PS4 players will be getting the short end of the stick when it comes to this mod. Sony doesn't allow any mods on the PS4 that introduce any external assets, only those that reuse or modify existing ones. With the enormous scope of this mod, there's no way to do it without new assets.
More gaming news and updates
Check out the latest from Mic, like this essay about the sinister, subtle evils lurking in rural America that Far Cry 5 shouldn't ignore. Also, be sure to read our review of Tekken 7, an article about D.Va's influence on one Overwatch player's ideas about femininity and an analysis of gaming's racist habit of darkening villains' skin tones.