'Hot Mic' podcast: Bronx hospital shooter, Nevada marijuana sales, Trump's CNN tweet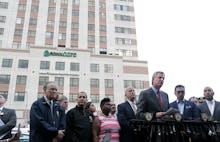 Listen and subscribe to the Hot Mic podcast from your mobile device:
Here are the important stories to get you caught up for Monday, July 3:
1. Authorities identified Henry Bello as the shooter in Friday's attack at New York's Bronx-Lebanon Hospital.
2. Nevada launched its first day of recreational marijuana sales.
3. President Donald Trump tweeted a video showing him pummeling a man with the CNN logo for a head, prompting a storm of criticism from legislators and media organizations.
Direct from Mic's newsroom, Hot Mic keeps listeners informed with a daily run-down of top stories, breaking news and analysis from our news team.