Chris Christie and family photographed relaxing on beach he closed to the public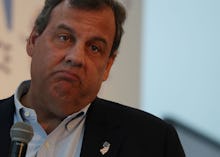 It's the quintessential story of a New Jersey summer: Man and family relax "down the shore" on Fourth of July weekend, enjoying sun, sand and no crowds to speak of because said man banned the public from the beach as part of a statewide government shutdown.
On Sunday, embattled New Jersey Gov. Chris Christie was photographed enjoying a day with family and friends at his summer home in Island Beach State Park — one of several of the state's government-run beaches Christie closed amid an ongoing budget standoff in Trenton.
Aerial images captured by New Jersey newspaper the Star-Ledger show the governor sunning himself in a sand chair in the middle of the deserted beach.
It's a particularly bad look for Christie, who currently holds the lowest approval rating of any governor in New Jersey history and who is already famously tied to another punitive scandal involving the closure of George Washington Bridge lanes in September 2013.
When asked at a press conference in Trenton later that day if he had gotten any sun, the Star-Ledger reported that Christie replied, "I didn't. I didn't get any sun today." 
Questioned about the photos later, the governor's spokesman, Brian Murray, said: "Yes, the governor was on the beach briefly today talking to his wife and family before heading into the office."
"He did not get any sun," Murray added. "He had a baseball hat on."
Following the release of the photos, Twitter users were quick to unleash some of their ire toward Christie.