German Bus Crash: 18 feared dead and dozens injured after fiery accident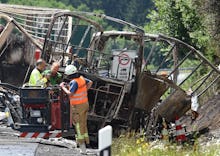 At least 18 people are feared dead in Germany after a coach bus carrying senior citizens crashed into a truck on a highway and burst into flames in Bavaria early Monday morning, police told the Associated Press. 
According to reports, the accident took place around 7 a.m. local time after the tour bus rear-ended the truck at the end of a traffic jam on a highway near the Czech border. The bus had two drivers on board and had been transporting 46 passengers.
According to the AP, police said that the 18 people unaccounted for "are believed to have died on the burning bus." At least 30 other people sustained injuries.
"We're afraid that people may have died in the accident," police spokeswoman Irene Brandenstein told the AP. 
Images from the scene showed the charred, smoldering skeleton of the bus.
Rescue workers were on the scene on Monday to tend to the injured, and the A9 highway remains closed in both directions as a result of the accident, the AP reported.