Trump continues to escalate his Twitter war on the press — should we pay attention?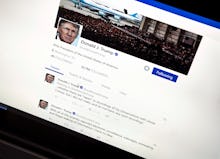 This is Mic's daily read on Donald Trump's America. Welcome to the political newsletter that would like you to weigh in on the president's tweets.
Want to receive this as a daily email in your inbox? Subscribe here.
On Sunday, the president tweeted a photoshopped video of himself wrestling a man with the CNN logo pasted over the man's face. It has since been revealed to have been created by a Reddit user with a history of virulently racist and anti-Semitic posts. CNN has already responded to the tweet by calling out White House press secretary Sarah Huckabee Sanders for having falsely claimed that the president has never incited violence against the media.
The video tweet comes just days after Trump came under bipartisan fire for a sexist tweet he sent about Morning Joe host Mika Brzezinski. After more than four days of continuous coverage of the president's salacious online presence, many are wondering how the country and the media should react to Trump's tweets.
Last week, after Trump's Brzezinski tweet, we asked you what you what you thought of the president's Twitter habits, and whether we should consider this the "new normal." Here are some of your responses.
J. David Krauser, Queens, New York: "I thought it was marvelous. ... I am enjoying watching you liberals fulminate impotently. Life is fun again! Go melt, little snowflake!"
Christy Heiskala, San Diego, California: "His language is exactly what perpetuates rape culture. We will not be handmaidens. We won't stop fighting back."
Rosemarie Marthaler, Monte di Procida, Italy: "By accepting Trump's tweets, does not that show our youth that bullying and disrespect is not only acceptable, but a way to achieve and remain in power?"
Richard W. Evans, Brooklyn, New York: "The white supremacists, skinheads, brown shirts repeat and react to his utterances in the streets. This cannot be allowed to be considered or described as normalcy."
Terry Ramsey, Lewisville, Texas: "Unfortunately, this kind of thing has become normal. The current president of the United States says it, his cronies excuse it and the populace adopts it."
Betty Cyrus, Virginia Beach, Virginia: "I waver between anger and fighting and disappointment and hopelessness. I am frustrated that the right has pulled the national conversation farther to the right than I can ever remember and has lost any idea of compromise."
Jill O'Neill, Columbus, Ohio: "I think the people who he is clearly obsessed with should bait him relentlessly. He can't stop himself from responding, so why not play along?"
Jerome Sodus, location unknown: "It is well known that the only way to handle bullies is to confront them and this is what President Trump is doing. He is a fighter; good for him."
Cynthia Coles, Decatur, Georgia: "Let the media outlets and Trump supporters be distracted with tweets. The rest of us have work to do."
What we're watching
Today: Trump's feud with CNN heats up as the network issues a response.
More: Members of Trump's own party continue to condemn the president's erratic online behavior.
Even more: Senators are home in their districts for the 4th of July recess, but what of that health care bill?
Yes, more: Trump prepares to meet with Putin in person for the first time as president.
Trump's agenda today: The president departs the "summer White House" and returns to Washington for the 4th of July holiday.
Republican Senator: Trump is trying to "weaponize distrust"
In an interview on CNN's State of the Union Sunday, Sen. Ben Sasse (R-Neb.) said that Trump is trying to "weaponize distrust through his increasingly disparaging rhetoric against the news media at large."
Sasse's comments are just the latest in the growing chorus of Republicans on Capitol Hill who are willing to condemn the president's behavior on Twitter.
White House say they're close to a deal on health care. The rank and file disagree.
This weekend, White House director for legislative affairs Marc Short told Fox News Sunday that the Senate is "getting close" to a vote on health care and that leadership hopes to have a vote soon after the 4th of July recess.
But Republican critics of the new senate bill don't seem so optimistic. "I don't think we're getting anywhere with the bill we have," said Sen. Rand Paul (R-Ky.), one of the bill's conservative critics. "We're at an impasse." Paul suggested that the house vote separately on repealing the Affordable Care Act and replacing it with something new, an idea that recently got an endorsement from the president but that leadership says is a non-starter.
News and insight you cannot miss:
• The White House science office has no staff left under Donald Trump.
• Homeland security adviser Thomas Bossert awkwardly defended Trump's latest controversial tweet
• Journalists from competing networks are standing in solidarity with CNN after Trump's latest over-the-top tweet.
• Legal weed in Nevada makes bank on first day of sales.
• The New Jersey government shutdown bodes poorly for those looking to head down the shore this holiday weekend — that is, unless you're Gov. Chris Christie.
• Need a break from politics this 4th of July? Read this Mic exclusive about how a former Fyre Fest executive promised people money that the organization knowingly did not have.