Lonely Lingerie paired up with a teen with terminal cancer to support sexual assault survivors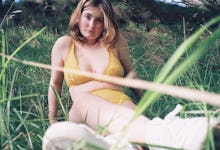 For the past few years now, the brand Lonely Lingerie has made a name for itself by pushing the lingerie industry toward a more progressive, inclusive future. It's vowed to never retouch images of its models, for example. It's also dedicated to showcasing women of many different shapes, sizes and ages in its lingerie, with body hair and stretch marks and scars on full display.
Last week, Lonely continued this quest to celebrate all women by introducing customers to Eva McGauley.
At 17 years old, McGauley has been diagnosed with terminal cancer. Her final wish is to help sexual abuse survivors as much as she can. In 2016, McGauley launched her own charity, Eva's Wish, which, according to the website, aims to provide "a platform for young people to become successful activists and to be able to create change in the areas they are most passionate about."
McGauley, who lives in New Zealand, is most passionate about preventing sexual violence and helping sexual abuse survivors. After launching Eva's Wish in the summer of 2016, by December 2016, McGauley had already raised NZ$50,000 for Help: Aukland, which provides support for sexual abuse and assault survivors.
According to McGauley, her ultimate goal is to create "a world that I can feel safe leaving my loved ones in without me being there to look after them."
On Wednesday, Lonely Lingerie made that goal even more possible, by announcing that McGauley would be its latest "Lonely Girl," and it would be donating all of its profits that day to Eva's Wish.
"Just before Christmas last year, we read a piece about the incredible fundraising Eva had been doing," Helene Morris, the founder and designer of Lonely Lingerie, said in an interview. "Her absolutely selfless dedication to the cause blew us away. For her to be terminally ill and choose to spend her time helping others is incredibly inspiring. We reached out to her and began talking about ways we could help."
On Thursday, Lonely announced that it had donated NZ$15,000 to her cause.
"It has been an absolute privilege to connect with Eva and to be able to help her achieve her dream to make a positive difference in the world," Lonely wrote on its Facebook.
"It is such an amazing honor," McGauley said in an interview. "When I asked Lonely if they would maybe be interested in doing some work with Eva's Wish, I was expecting them to make a tweet about us not give us a whole day's sales! We are so grateful to them."
With popular brands like Lonely Lingerie already heeding that call, we're sure McGauley is well on her way to changing this world for the better.
July 5, 2017, 1:18 p.m.: This post has been updated.