'Code Vein' Gameplay Trailer and Release Date: Extended look at game's combat revealed at Anime Expo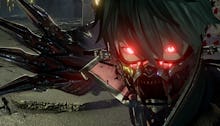 Comparing new games to Dark Souls has become so passé that there's an entire Twitter account dedicated to shaming those who do so — but in the case of Code Vein, those comparisons are pretty unavoidable. It's anime Dark Souls. That's just a fact, folks.
In a new trailer that Bandai Namco released at Anime Expo, we finally got an extended look at Code Vein's combat. As you might expect from those Dark Souls comparisons, it looks slow-paced, methodical, and requires a good deal of patience and precision, lest you get chopped to bits by that weird, droopy, anteater giant-man thing.
Code Vein will be out some time in 2018 for Xbox One, PS4 and PC. The new trailer is embedded below.
Code Vein gameplay trailer
More gaming news and updates
Check out the latest from Mic, like this essay about the sinister, subtle evils lurking in rural America that Far Cry 5 shouldn't ignore. Also, be sure to read our review of Tekken 7, an article about D.Va's influence on one Overwatch player's ideas about femininity and an analysis of gaming's racist habit of darkening villains' skin tones.