'Pokémon Go' Anniversary Event 2017: Fans have varied expectations for the game's anniversary update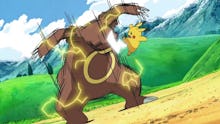 Earlier this summer, Pokémon Go kicked off a pretty major suite of updates for the game to celebrate its one-year anniversary. Players experienced a fire and ice solstice event to kick it all off, new collaborative multiplayer raids and a massive overhaul to the gym system.
However, some players are convinced that Niantic has something special planned for the Pokémon Go one-year anniversary on July 6 — but what it will entail is anyone's guess.
Pokémon Go anniversary event 2017: Legendaries or just a new Pikachu hat?
In thread on popular Pokémon Go-focused subreddit, The Silph Road, players discussed what they'd like to see for the one-year celebration. Some posters hoped that the one year might bring about the legendary Pokémon that showed up in a previous data mine. Other players hoped that an event would reward them with extra stardust or double XP, arguing that legendaries would probably debut at the Chicago live event.
However, some players assumed that Niantic would instead reveal a new Pikachu variant, to varying degrees of excitement. A "rare Pikachu" would allegedly be showing up at Siggraph 2017 and the new event type for an anniversary event in the game's code. So this is a reasonable expectation. However players had varied reasons for hoping the anniversary event would just herald a new special Pikachu.
"I will take a Pikachu hat that everyone can get over a legendary that I won't," wrote poster T-T-N wrote. Although raids are the new hot ticket item for Pokémon Go, many players still feel barred from participating due to low numbers in their area. Other fans wanted to keep expectations low out of a fear of disappointment.
"It's just Pikachu hats," flockle815 wrote. "Stop getting me excited. I've been crushed too many times." For a long time, speculation was the name of the game when it came to new events, but players have been fed up with wild speculation for a while now.
"I see so much hype-cycl[ing] about people posting speculation, and other people speculating on speculations," sobrique said. "And then it's Pikachu hat time and everyone is disappointed."
Of course no one is saying you can't be excited for what the new event portends if you're still feeling that speculation bug, but don't say we didn't warn you if you're hoping for legendaries and end up with a new hat for Pikachu instead.
More Pokémon Go news, updates, tips and tricks
Raids are here! See why they may be the key to legendary Pokémon. Find out how to determine how long it will take you to reach level 40, and see what we think of the Gen 2 Pokémon added to the game. Here are the kinds of Pokémon you get from 10-kilometer eggs, and here's where you can check out what you missed during the Water Festival and Solstice events. Find out more about the upcoming Chicago event and why you'll probably be able to catch Unown while you're there — if you're not busy searching for rare evolutionary items, that is.