Senate Republicans could be gearing up for a health care vote next week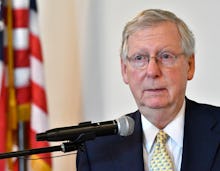 Don't look now, but the Senate could be setting up a vote on health care legislation for when the chamber returns to Capitol Hill next week after the July 4 recess.
Senate Majority Leader Mitch McConnell (R-Ky.) sent two versions of the GOP's health care bill to the Congressional Budget Office to be analyzed over the week-long recess, Axios reported. The CBO score would say whether the bill complies with Senate rules that would allow the bill to pass with just 50 votes.
One version McConnell sent to the CBO includes changes proposed by Sen. Ted Cruz (R-Texas), which would allow insurance companies to offer health care plans that don't meet the standards imposed by the Affordable Care Act, but only if they also offer plans that do meet the ACA standards.
Things that insurers could waive include protections for people with pre-existing conditions, as well as mandated Essential Health Benefits such as prescription drug coverage, mental health care, addiction treatment and maternity coverage, among other things.
In essence, that would mean those with pre-existing conditions would be forced into the more expensive, ACA-compliant plans that cover the treatment and drugs they need, while healthier Americans could purchase the non-compliant plans with lower premiums.
Cruz's plan sounds a lot like states that set up high-risk pools, which offered more expensive coverage for those with pre-existing conditions.
A White House official has endorsed the idea, according to Axios.
However the CBO score would likely show how much costlier an ACA-compliant plan would be than a non-compliant one — which Democrats and other opponents to the GOP's plan could paint as a penalty for Americans with pre-existing conditions.
Protections for people with pre-existing conditions is one of the most popular parts of the ACA, better known as Obamacare.
And as Republicans debate how to make good on their seven-year promise to repeal and replace former President Barack Obama's signature domestic achievement, support for Obamacare has grown.
Obamacare's approval rating hit 52% in a Fox News poll released Wednesday, while the health care plan Senate Republicans delayed a vote on has just a 27% approval rating.