Indian woman attacked with acid for the fifth time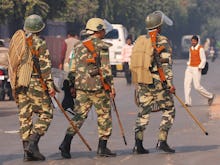 Despite police protection, a 35-year-old woman in the Indian state of Uttar Pradesh was attacked with acid for the fifth separate time, police in India said on Sunday, according to the Guardian.
The woman, whose name cannot be released for legal reasons, has survived four separate acid attacks and an alleged gang rape, the BBC reported on Sunday.
She was reportedly attacked while getting water from a pump outside a women's hostel in the city of Lucknow, according to the Guardian, despite being under "round-the-clock police protection."
An attacker reportedly climbed the wall of the hostel and poured acid on her from above. The woman was taken to a hospital to be treated for burns on her face and shoulder. Efforts are underway to identify the attacker.
The woman was first targeted in 2008, when she was allegedly raped and attacked with acid by two men over a dispute about property, the Guardian reported. She was attacked again, allegedly by the same two men, in 2012 and 2013.
According to the BBC, the attacks were an effort on the part of the two alleged attackers to force the woman to withdraw criminal charges against them.
In March, the woman was attacked again while traveling on a train with her daughter, and this time was forced to drink acid, according to the Guardian.
In 2013, an Indian Supreme Court ruling regulated the sale of acid in an effort to lessen the prevalence of such attacks, but authorities say there are still hundreds of acid attacks each year, the BBC reported. Advocates say the real number of attacks is even higher.
According to the Acid Survivors Foundation India, the official number of acid attacks in India in 2015 was 249, but the organization says the real number could be as high as 500. In April, the Guardian reported that another estimate puts the true number of annual acid attacks at about 1,000.
These types of attacks aren't unique to India. In June, two cousins were attacked with acid through their car window while they were stopped at a red light in London. That attack is now being treated as a hate crime, the BBC reported on Saturday.