Chris Christie sunbathing on beach he closed to the public becomes legendary meme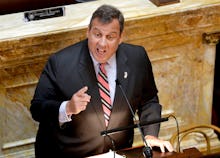 Chris Christie's New Jersey beach day has achieved viral meme status faster than you can say "pass the gabagool."
The unpopular New Jersey governor caused quite the stir when he was photographed lounging Sunday on one of the empty beaches he personally closed to the public amid budget gridlock in the state's capital.
Aerial images of Christie and his guests were captured via airplane by New Jersey's Star-Ledger — and it wasn't long before Twitter users descended upon them.
In a series of artful photo edits that included scenic renderings of Christie and his sand chair everywhere from the Oval Office to the George Washington Bridge, internet users found creative ways to air their political animus towards the embattled governor.
In another fun twist, some Twitter users reimagined the aerial photos as abstract and oil masterpieces.
In a tweet Monday morning, Christie issued a reminder that New Jersey's beaches are open in "119 of our 130 miles of coastline," and encouraged state residents to "come and enjoy them — but use sunscreen and hydrate!"