Connecticut's secretary of state has a few questions about Donald Trump's "voter fraud panel"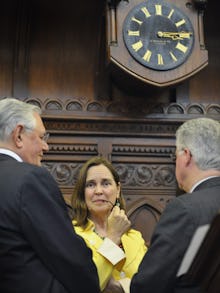 When President Donald Trump's new Commission on Election Integrity sent out a request for reams of personal information about voters, Denise Merrill was skeptical — but tentatively cooperative.
The Connecticut secretary of state released a statement saying that "in the spirit of transparency," she would release publicly available information, while still "ensuring that the privacy of voters is honored by withholding protected data."
But that very issue of transparency — specifically, questions about how the commission intends to use the data — led Merrill to inform the panel she won't be playing along after all.
"I am in receipt of your request for information and have concluded that fulfilling your request is not in the best interest of Connecticut residents," Merrill wrote to her Kansas counterpart, Kris Kobach, who's chairing the panel with Vice President Mike Pence.
Merrill's letter is dated July 2, the day after Trump questioned what states are "trying to hide" by refusing to hand over information to the "very distinguished VOTER FRAUD PANEL."
Trump's tweet casually hamstrung efforts to frame the panel's mission as one of protecting Americans' right to vote and increasing confidence in the system, not just chasing fraud.
Kobach's office did not respond to repeated requests for comment.
Merrill is among a substantial list of secretaries of state nationwide who are refusing, wholly or in part, to give the election panel the information it wants, citing voter privacy and unclear intentions on the part of the panel.
The Brennan Center for Justice is keeping a running tally of who's in and who's out when it comes to cooperating with the panel. As of Sunday night, the center tallied more than a dozen such states.
Merrill had a long list of questions for Kobach, as laid out in her letter:
"The most urgent and immediate crisis facing our democracy today is the mounting evidence that Russian agents probed our election systems for vulnerabilities," she noted. "And yet it is the decentralized nature of our electoral system that has protected in these circumstances.
"To my mind the answer is clear: Provide for states the resources to defend their election infrastructures from such invasions and support a strong inclusive transparent democracy that makes it easy for all Americans to participate."
Merrill wrapped up with a bit of advice for Kobach: Let's "avoid wasting precious time and resources an overly broad and unfocused requests for information."
Washington Secretary of State Kim Wyman, like Merrill, also initially said in a June 30 statement that she'd review Kobach's request, noting that "we are required to comply pursuant to state law regardless of who is making the request."
But Wyman took to Twitter Monday afternoon to tell "the feds" that if they wanted voter data, they were welcome to look it up themselves on the web portal available to any user.
Brian Frosh, the attorney general of Maryland, called the federal panel's request "repugnant," and said on Twitter that it "appears designed only 2 intimidate voters and 2 indulge the President's fantasy that he won the popular vote."
Frosh continued of Trump, who has baselessly claimed millions of people voted illegally in the 2016 election: "Repeating a false story of expansive voter fraud, and then creating a commission to fuel that narrative, does not make it any more true."
And Sen. Amy Klobuchar (D-Minn.) tweeted a video riff on Mississippi's Republican Secretary of State Delbert Hosemann's remark that the federal panel could go "jump in the Gulf of Mexico" regarding its data request.
"The President's Commission on 'Election Integrity' asked every state of the Union to provide sensitive voter information from people's birthday's to their voting history, to even their Social Security numbers," Klobuchar said, throwing in some air quotes.
"I think they should go jump in Lake Superior."
July 3, 2017, 1:55 p.m.: This story has been updated.