'Splatoon 2' Release Date and Gameplay: Nintendo Direct for 'Splatoon' sequel coming this Thursday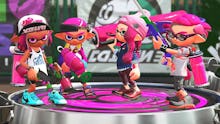 Splatoon 2 is out in just a few short weeks, but Nintendo doesn't think we've seen enough of it yet. It doesn't matter that Switch owners have already gotten the chance to play it and we've already seen the new, co-op Salmon Run mode. Nintendo isn't giving up on the hype train that easily.
Splatoon 2 Nintendo Direct coming Thursday, July 6
Nintendo announced via Twitter that a new Nintendo Direct focused solely on Splatoon 2 would drop Thursday at 10 a.m. EDT.
It's not clear whether or not there will be any significant announcements during this Nintendo Direct. "New features" could mean a lot of things. Since it's just for one game that's out very soon, I imagine it won't be a long presentation.
One thing I'd like to see is plans for Splatoon 2's downloadable content. The first game had several months' worth of free add-ons after launch that kept the game interesting for a long time. Of course, it didn't hurt that the game had just a few maps and one mode at launch, so additional content felt necessary.
Arms is also going that route with its DLC, so hopefully Splatoon 2 has some post-release tricks up its sleeve like the original game did.
More Splatoon coverage
Read more of our Splatoon news and coverage, including our impressions of the open beta back in March and at the Nintendo Switch event in January. Find out everything we learned about the game back in January. If you're looking for more information about the April 2017 Nintendo Direct, check out the proceedings here. Or if you want to check out general Nintendo Switch news see reports of screen defects in the Switch and what you can expect if you're trying to buy one.