Donald Trump tweets in support of Charlie Gard, terminally ill UK infant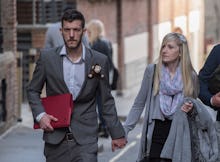 In a tweet Monday morning, President Donald Trump offered his support to Charlie Gard, a 10-month-old baby in the U.K. battling a rare genetic disease.
Trump joins Pope Francis in his pledge to care for Charlie, who's made headlines as his parents fight to prolong his life. Here's a brief overview of Charlie's genetic disease, and the legal battle his parents have faced to treat it.
What is Charlie Gard's genetic disease?
Charlie has mitochondrial DNA depletion syndrome, a rare genetic disorder that has left him unable to move his arms and legs or eat and breathe on his own. The disease, which is almost always fatal in babies, has only affected about 45 people worldwide, according to the United States National Library of Medicine.
The condition leads to progressive muscle weakness, affecting its victims' abilities to stand, walk, eat and talk. The disease can also cause seizures, hearing loss or an enlarged liver.
An inherited disease, both of Charlie's parents were unknowingly carriers of the faulty gene.
There is no known cure.
How has Charlie been treated so far?
According to a GoFundMe page organized by his parents, Charlie was born in August as a seemingly healthy baby. However, in the weeks after his birth, Connie Yates and Chris Gard began noticing their son was losing his ability to hold his head up and wasn't gaining weight, the Washington Post reported. When Charlie appeared lethargic and began shallow breathing at 8 weeks old, his parents took him London's Great Ormond Street Hospital for Children, or GOSH, where he's been ever since.
At the hospital, Charlie has undergone a series of treatments, including nucleoside therapy — the same treatment his parents hoped to get for him in the United States. He remains on a ventilator, which helps him breathe, removes fluid from his lungs and monitors his vital signs.
Why did Charlie's case go to court?
Earlier this year, Charlie's parents wanted to bring their son to the United States for an experimental treatment, but doctors at GOSH concluded that the therapy was unlikely to help, due to the infant's declining condition.
"We strongly feel as his parents that Charlie should get a chance to try these medications," Yates wrote on Charlie's GoFundMe page. "He literally has nothing to lose but potentially a healthier, happier life to gain." 
In February, GOSH applied for the High Court to rule on whether or not it was lawful for the hospital to withdraw ventilation, provide palliative care only and deny the parents' request to take Charlie to the United States. On April 11, the High Court ruled these actions were in Charlie's best interest.
Both an appeals court and the U.K. Supreme Court upheld the decision, denying Charlie's parents the ability to regain custody of their child from the hospital.
After the European Court of Human Rights refused to review the case Tuesday, Charlie's parents had been expecting the hospital to turn off his life support on Friday. However, the hospital said it is working to continue caring for Charlie so the family can spend more time together.
It's unclear how long the hospital will sustain care.
Will Trump actually be able to help?
According to the Washington Post, it's unclear whether the United States will be able to do anything to help prolong Charlie's life.
According to Time White House correspondent Zeke Miller, Helen Ferre, the White House's director of media affairs, told reporters, "Although the president himself has not spoken to the family, he does not want to pressure them in any way, members of the administration have spoken to the family in calls facilitated by the British government. The president is just trying to be helpful, if at all possible."
Additionally, as Trump mentioned in his tweet, Pope Francis has also come out in support of the infant. In a statement Sunday, the Vatican said Francis was following Charlie's case with "affection and emotion."
"For [Charlie's parents] he prays, hoping that their desire to accompany and care for their own child to the end is not ignored," the statement read.