Kanye West's reported split with Tidal is the latest rift in his complicated relationship with Jay-Z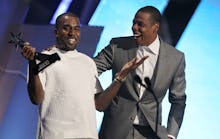 Kanye West and Jay-Z have had their differences over the years, but never before like this. Usually their tiffs have been personal — bickering over a comped ticket price here or a skipped wedding there. Such incidents are perfect tabloid-gossip fare, but nothing that two rational, grown men couldn't get over if they had a relationship worth saving. The news TMZ broke Sunday, however, is something entirely different.
"Sources connected to Tidal" reportedly told the celebrity news publication that West is leaving the exclusive service he helped launch with Jay-Z in March 2015. The news comes after two weeks of intense negotiations centering around a $3-million sum West is supposedly owed. West's team allegedly raised two points of contention: a referral bonus West was supposed to receive for bringing 1.5 million new subscribers to Tidal with his February 2016 album, The Life of Pablo, and a reimbursement for the album's accompanying music videos, neither of which Tidal ever paid. Jay's streaming service is reportedly ready to sue West if he enters into another exclusive streaming deal — but sources claim West will sue right back.
It seems clear that there has been a complete and total communication breakdown between the former brothers-in-arms, who once maintained a celebrated bromance, one they immortalized on wax with 2011's Watch the Throne. There's nothing colder West could have done than pull out of Jay-Z's beleaguered Tidal two days after Jay released his widely celebrated 4:44. The LP included a glowing plug for the service on "Smile," with Jay describing Tidal as an attempt to "try to free" his people.
How does one read that line following the alleged slights at the hands of the company described by West? However you slice it, this incident, more than any other in the long tumultuous history between the two rappers, may be the one that finally dispels the bromance myth once and for all.
Kanye West's and Jay-Z's relationship was built on rocky ground; theirs was a business arrangement before a genuine friendship. But their differences never seemed like anything mutual respect and a sense of shared goals couldn't smooth out.
Jay originally brought 'Ye into the Roc-A-Fella family to be a beatmaker. The Chicago producer mapped out the sonic foundations for Jay's most cohesive and impressive album to date, 2001's Blueprint. Though when Kanye began expressing greater ambitions than being a producer, Jay-Z allegedly tried to check those and keep 'Ye behind the boards.
Hov denied trying to keep West's role in check in a 2009 XXL interview: "I wasn't saying don't sign Kanye, I was saying, at least keep the beats in-house, if anything." But that quote also pushes a very specific view of the dynamics of that relationship: Jay sees Kanye as an asset. The occasional tabloid shot of the two chumming together over dinner painted the picture they were bros, navigating the occasional thorny business disagreement. But fast-forward to present day, and their relationship appears changed. The way the two have spoken of one another publicly suggests there's a profound void has been growing between them.
"Don't call me, after the robbery, and say 'How you feelin'?'" West said in an October rant from his Saint Pablo tour, referring to Kim Kardashian's Paris robbery. West found out in the middle of his headlining set at Meadows music festival, and cut it short to be with his family. "You wanna know how I'm feeling? Come by the house. Bring the kids by the house, like we're brothers."
Jay nods to that rant and its November sequel on "Kill Jay-Z," the opening track from 4:44, while simultaneously responding to Kanye's "Saint Pablo." On the late addition to Life of Pablo, West rapped about the multimillion-dollar partnership he nearly pursued with Apple before deciding to maintain his loyalty to Jay:
I would've took a hundred million and gave 20 to Hov
Clearly, times change. On "Kill Jay-Z" the Bed-Stuy rapper cooly mentions a $20 million advance he gave West to keep him on Tidal, reporting he was shocked when it wasn't enough to stop Kanye from mentioning his name in his Saint Pablo rants:
You gave him 20 million without blinkin'
TMZ makes clear these lyrical subliminals are not what drove the Tidal split; it's money issues, the publication claimed. But this may be a stubborn green scapegoat for what's actually come between the two rappers. "Feelings matter, bro," Kanye said during his November rant. "The way motherfuckers put money up so high, popularity, radio spins. Feelings matter, bro. Feelings matter, bro."
Perhaps West's leaving Tidal is simply his attempt to speak to Jay in terms the self-described "business, man" will understand.
Tidal depends on its cult of personality. It was a major selling point the service was launched on, and the exclusives from its supposedly tight-knit family of pop creatives is what's kept it in the cultural conversation. West's departure hands the service perhaps its biggest L to date, at a time when it was supposed to be embarking on a victory lap. Considering all that Jay-Z has invested in the venture, West leaving doesn't seem like the kind of slight he'll be able to just forgive and forget. Perhaps it's simply time for fans of the power duo to face the music: Not all friendships are what they seem, and not all of them can last forever.
Mic has ongoing music coverage. Follow our main music hub here.