'The Keepers' Update: Petition hopes to shed more light on Sister Cathy Cesnik's death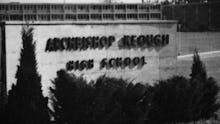 The Keepers may help solve the murder of Baltimore nun Sister Cathy Cesnik. Just a few short months after Netflix released the docuseries investigating the 1969 murder of Cesnik, viewers are rallying to encourage the Archdiocese of Baltimore to release files on Reverend A. Joseph Maskell, the Archbishop Keough High School priest who was accused of multiple accounts of sexual abuse.
A petition on Change.org has racked up over 12,000 signatures at the time of publication to get the Baltimore Archdiocese to release records they have "regarding sexual abuse claims against A. Joseph Maskell." According to the petition, the files can help "throughly investigate all avenues that may have led to the murder of Cathy Cesnik in 1969."
The Keepers documentary explores accounts from former Keough students who were abused at the hands of Maskell. Cesnik allegedly found out about the sexual abuse and was killed before she could report it. Maskell, who died in 2001, was not a suspect at the time of Cesnik's death. However, his body was exhumed this past February so that a DNA sample could be tested against evidence discovered at the crime scene. The DNA did not match, but police told the Baltimore Sun that the lack of forensic evidence does not clear Maskell of involvement.
"Our best hope for solving this case at this point lies with the people who are still alive," Baltimore county police spokeswoman Elise Armacost said in a statement in May. "And we hope that someone will be able to come forward with conclusive information about the murder."
The Keepers director Ryan White has previously said that he believes the docuseries will help find Cesnik's killer. But unfortunately it doesn't appear as if the docuseries will play a hand in the Baltimore Archdiocese releasing their files on Maskell. Entertainment Weekly reports that Archdiocese spokesman Sean Caine issued the following statement regarding the Change.org petition:
Archdiocesan policy and state law would preclude us from disclosing much of the information in them as they include confidential personal information (e.g. names of alleged sexual abuse victims), personnel records, health records, attorney-client communications, personally identifying information (such as social security numbers), etc.
Since 2011 the Archdiocese has paid a total of $472,000 in settlements to 16 people who have alleged that they were abused by Maskell.
The Keepers is available to stream on Netflix. Check out Mic's main The Keepers hub here.