'Bayonetta' Nintendo Switch Release Date: Developers hint at a portable launch for the Wii U game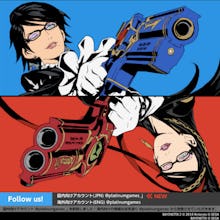 E3 2017 didn't bring a Bayonetta Nintendo Switch release date, like some had hoped. The action game was one of the Wii U's best titles and it, unlike Mario Kart and the upcoming Splatoon, Bayonetta had yet to make the transition to Switch. Its developer, Platinum Games, hasn't done much to suggest that Bayonetta could be coming to the Nintendo Switch anytime soon. Until now, that is.
Bayonetta Nintendo Switch release date: Platinum Games hints at new release
Bayonetta on Nintendo Switch is looking very likely, at least based on a recent tweet from Platinum Games. In an official post from the Platinum Games Japan Twitter account, the company tweeted a picture of the titular character with a blue and orange background. The American account corroborated this info. Check out their retweet below:
And here's the full image:
If you're still not seeing the connection, Twitter's here to help. Note how the colors Platinum Games used in its image match a certain pair of controllers that comes with the Nintendo Switch.
While the Bayonetta games have appeared on places like Steam and Xbox, the game's makers have a special relationship with Nintendo. The sequel came to Nintendo's console only. According to Platinum, it wouldn't have existed without Nintendo.
The Bayonetta Nintendo Switch teaser doesn't offer a lot of info. So it's tough to say if the plan is to release remakes of the first two or unveil a brand new title. Either way, it seems Nintendo will be pleased.
Check out more Nintendo Switch news and coverage
Looking for more Nintendo Switch news? Check out how blind gamers are using the Nintendo Switch and why you can't get your Mii to look quite like you. Nintendo's left Joy-Con issue turns out to be a hardware problem — here's how to solve it. Find out how to buy a console amidst the recent restock. Learn why the Switch cartridges taste so bad. Check out our comparison photos sizing up the Switch to the Wii U GamePad (part one and part two), or find out how to make use of ethernet without the dock and the best way to get alerts when new stock arrives.