Chris Christie's own lieutenant governor, Kim Guadagno, throws him under the bus for beach outing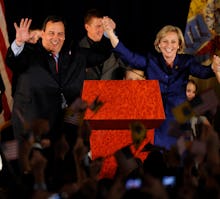 New Jersey Gov. Chris Christie's Sunday outing to a beach that he banned the public from using left many in the Garden State up in arms — even his own lieutenant governor, who said his use of the beach is "beyond words."
"If I were governor, I sure wouldn't be sitting on the beach if taxpayers didn't have access to state beaches," Republican Lt. Gov. Kim Guadagno said Monday, responding to the widespread condemnation of Christie's conduct.
Public beaches in state parks were closed to the public following a state government shut down, but that didn't keep Christie and his family from hitting the roped off shoreline on Sunday.
Guadagno, who is running to replace Christie in New Jersey's gubernatorial election in Novemeber, is severely imperiled by Christie's sinking popularity, which clocked in at an abysmal 15% at the end of June, according to a Quinnipiac University poll.
Quinnipiac noted the number is "the worst approval rating for any governor in any state surveyed by Quinnipiac University in more than 20 years," and was captured prior to the beach incident.
Guadagno currently trails the Democratic nominee, Phil Murphy, by a margin of 26% to 55%, according to a Quinnipiac poll.