'Crash Bandicoot N. Sane Trilogy' Warped Trophy Guide: How to find the trophies to beat the 3rd game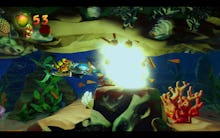 The Crash Bandicoot remaster is out at last. The original trilogy was rereleased on June 30 with better visuals in a compilation titled, Crash Bandicoot N. Sane Trilogy.
If you're looking to dominate the game from your childhood, you're going to need some trophies to do that. And how would you do that without a guide? Here's all the trophies you'll need to complete the third game, Crash Bandicoot 3: Warped.
Crash Bandicoot Warped Trophies Guide
There's a post on DualShockers that breaks down each trophy for the game. Here's what they have for Crash Bandicoot 3: Warped, the third piece of the trilogy featured in Crash Bandioot N. Sane Trilogy:
Bronze Trophies
Tiny Trounced – Defeat Tiny Tiger
Silver Trophies
A Nefarious Trophy – Defeat N. Tropy
Gold Trophies
Cortex N. Carcerated – Defeat N. Cortex
More gaming news and updates
Check out the latest from Mic, like this essay about the sinister, subtle evils lurking in rural America that Far Cry 5 shouldn't ignore. Also, be sure to read our review of Tekken 7, an article about D.Va's influence on one Overwatch player's ideas about femininity and an analysis of gaming's racist habit of darkening villains' skin tones.