I used a neural network to flirt with guys on Tinder, and it was a disaster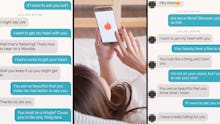 On Monday morning, I fired up ye olde Tinder app and did what any modern woman looking for her soulmate should do: I messaged all of my matches with word vomit spawned from a machine.
"You must be a tringle? 'Cause you're the only thing here."
I hit on my Tinder matches using the approximately 20 pickup lines generated by research scientist Janelle Shane's neural network framework. Shane used an open-source Torch add-on that uses machine learning to predict and generate text that is meant to imitate human language. In this case, it was writing flirty texts.
They ranged from the sweet ("I want to see you to my heart") to the nonsensical ("I have a cenver? Because I just stowe must your worms").
Algorithms are not very good at picking up on the nuances of human language and emotion. Fortunately, for a lot of dudes, that simply doesn't matter.
I told one guy he "looked like a thing" and I loved him, and he told me he hoped I had a bush. I told another one I would bear his toot. He asked if I was looking to fuck and whether or not I liked Led Zeppelin.
Would I find love bound by the limitations of a feebleminded machine? (Nope!) How long until the men of Tinder figured out that they were courting a bot? Can a neural network get you laid? Join me on my journey through the valley of the shadow of death — Tinder, baby!
I have not yet passed the Turing test.
Not yet...
Closer...
Closer...
Ding ding ding. Houston, we've made contact.
This guy immediately asked about my pubic hair for some reason.
This guy said he isn't looking for anything serious, but is always up for romance.
There you have it, folks. A bot can get you laid.
We found love in a hopeless place.
Are you my soulmate?
This guy clearly loved it.
Who needs a personality when you have an algorithm?
And then, out of nowhere, I met my match. Three different guys responded with lines from the same neural network.
So what did we learn today?
You can agonize over that opening line that is the perfect blend of flirty, cool and mysterious. Or you can copy and paste an illogical machine-generated phrase. Time is money, love is patient and nothing is forever. Also, men will respond to literally anything.