Far-right nationalist charged with plot to assassinate French President Emmanuel Macron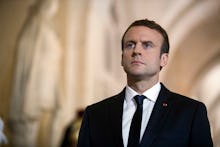 A suspect has been arrested and charged with plotting to assassinate French President Emmanuel Macron on Bastille Day, CNN reported, citing the Paris Prosecutor's Office.
The suspect, who was arrested in the Argentuil suburb of Paris, told police he planned to kill Macron on the July 14 holiday of Bastille Day, which commemorates a turning point for the French Revolution and marks a day of patriotism for the people of France.
The 23-year-old self-described "far-right nationalist" told law enforcement that he planned to assassinate the centrist president in order to make a political statement, CNN said. According to CNN affiliate BFMTV, a French newsroom, the suspect also said he wanted to attack "blacks, Arabs, Jews and homosexuals."
BFMTV also reported that law enforcement first became aware of the Bastille Day assassination plot when frequenters of an undisclosed video game website alerted police that the suspect had posted about wanting to buy a rifle in order to commit an attack.
According to CNN, police said it was too early to say whether the suspect was working alone or was part of a larger network of potentially violent far-right nationalists.
Macron defeated far-right candidate Marine Le Pen in the presidential election, who ran on a platform of French nationalism that took a hard line on immigration. On the campaign trail, Le Pen even proposed that France "expel foreigners who preach hatred on our soil."
A BBC analysis of Le Pen's rhetoric contended that she linked immigration with extremist terrorism.