The Afghan girls robotics team denied entry to US will watch their robot compete over Skype instead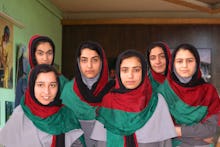 The all-girls robotic team from Afghanistan that was denied a visa to enter the U.S. will have to watch their robot compete over Skype from thousands of miles away instead, one of the competition organizers said on Monday.
The team of six teenage girls had planned to compete in FIRST Global Challenge, an international robotics competition that will be held in Washington, D.C., in July — but their applications for seven-day travel visas were turned down by the state department after two attempts, Forbes reported Thursday.
In a phone call Monday, FIRST Global President and former Pennsylvania Congressman Joe Sestak said that he was "saddened" to learn that the team's visa applications were denied. "I wanted them to be the team," he said. "The girls were obviously very disappointed."
Sestak said that organizers had worked directly with the State Department to try and secure visas for all the youth competitors, but despite their efforts, Team Afghanistan was turned down. A causality, Sestak said, of Afghanistan's notable low acceptance rate for visas.
The six teens that make up Team Afghanistan are based in the city of Herat. To apply for their visas to travel to the U.S., the team had to travel 500 miles across the country to the American Embassy in Kabul, a city that is often plagued by violence. Still, the girls made the trip not once but twice, returning for a second round of interviews after their first visa applications were rejected.
Roya Mahboob, Afghanistan's first female tech CEO and the woman who organized Afghanistan's robotics team, said the girls "were crying all the day" when they first heard their visas had been turned down again, Forbes reported.
Mahboob said that founding the team sent an important message in Afghanistan. "Robotics is very, very new in Afghanistan," she told Forbes.
In their profile on the FIRST Global website, Team Afghanistan wrote, "We want to make a difference, and most breakthroughs in science, technology, and other industries normally start with the dream of a child to do something great. We want to be that child and pursue our dreams to make a difference in people's lives."
Sestak said that Team Afghanistan will be represented on the ground during the competition by a partner team of young Afghan-American women. Additionally, Team Afghanistan will watch and participate in the event via Skype, Sestak said, noting that organizers were "working hard" to ensure that "they're a part of it" even from a distance.
And, he said, FIRST Global organizers are already planning efforts to ensure Team Afghanistan can attend next year's competition in person.
Despite their disappointment, shortly after getting the bad news, Team Afghanistan was hard at work putting the finishing touches on their ball-sorting robot, Forbes reported. Their bot will compete in Washington, D.C., later this month — and they'll be cheering it on while they watch from a screen.