Swedish music festival cancelled after spate of sexual assault reports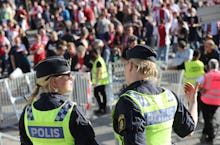 Sweden's Bråvalla music festival has been cancelled for 2018 after police received four reports of rape and 23 reports of sexual assault from Thursday to Sunday, according to the Guardian.
"Some men — because we are talking about men — apparently can't behave," read an explanatory statement posted to the festival website and translated by the Huffington Post. "It's a shame."
"I've had it," Folkert Koopmans, CEO of FKP Scorpio, the German production company that runs Bråvalla, added. "Violence kills the festival experience and the love for music, and — first and foremost: People are getting hurt. One is one too much!"
The first report came in Friday from a woman who said she was raped while Håkan Hellström, the festival headliner, was onstage, according to the Huffington Post. On Sunday, the Post logged the number of incidents at one rape and 11 sexual assaults, but that number seems to have risen since that report. Speaking to the Guardian, police chief Martin Hedberg cited "weak descriptions" of suspects that come in after the fact, leaving police with relatively little information in their investigations.
The specter of sexual assault is becoming increasingly visible at music festivals worldwide, and the question of preventing misconduct is not a new one for Bråvalla. In 2016, five rapes and 12 sexual assault cases were reported at the festival. At another Swedish music festival held the same weekend — Putte i Parken in Karlstad — women attested to 32 instances of sexual assault, mostly in the form of groping by men.
"These were reports of women being touched in unwanted places, such as on their breasts and on their bottoms and inside their underwear," Karlstad Police Department Inspector Leif Nystrom told the New York Times.
Bråvalla's statement said the decision to cancel the 2018 event wasn't about confining the problem to festivals or an inability to handle it; rather, it's "about making a clear statement."
"We do not accept [sexual assault] at our festival," festival organizers said in the statement.
July 5, 2017, 8:58 a.m.: This article has been updated.