Netflix releases dark, patriotic 'Ozark' teaser trailer ahead of Fourth of July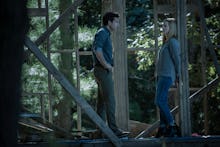 Netflix is getting in on the Fourth of July action with a dark, yet patriotic teaser trailer for their new drama, Ozark.
Ozark, starring Jason Bateman and Laura Linney, follows a Chicago financial adviser named Marty who moves his family to the Ozarks. Unfortunately, the move is anything but a fresh start. Marty had been laundering money for a drug kingpin and his partner was caught. Drama ensues when Marty clashes with a local drug dealer and a "clan of ruffians" — all while trying to keep a low profile from the FBI. According to the official synopsis, Marty must "complete his laundering, to save the life of his family, as they struggle to find their own path in this seemingly foreign way of life."
The first teaser for the series, released Monday, doesn't reveal too much more. A rendition of "America the Beautiful" plays in the background as a picturesque scene of a happy family plays out — but things quickly grow dark. "Discover your last resort" flashes across the screen as the video cuts to a man on a street who seemingly jumped to his death.
Ozark will be released on Netflix on July 21. Watch the teaser trailer below:
Mic has ongoing Netflix coverage. Check out our main Netflix hub here.