'Popsugar' published an article about embracing natural hair. Zero black women were featured.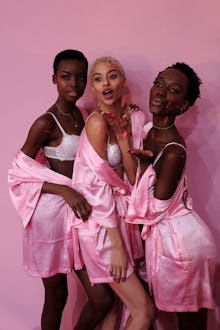 Viola Davis has rocked it on a number of red carpets. Taraji P. Henson flaunted it for a magazine spread. It even landed on the Victoria's Secret Fashion Show red carpet this past year, on more than one model.
And still, it seems, some people don't have an understanding of what the phrase "natural hair" really means today, and how much the movement to love it and embrace it means to black women.
That was made evident in June, when Popsugar published a sponsored article titled "These 3 Women Are Making a Serious Case For Rocking Your Natural Hair," which featured zero black women.
So rather than learning something from a black woman who's embraced her natural hair, we get to learn how Hannah is fighting frizz, how Sasha is learning to love her thick hair and how Olivia is learning to live with her textured (read: curly) hair.
Plenty are finding the article offense to the term "natural hair" being used here, calling it misleading and offensive and an attempt to co-opt the movement surrounding black women wearing their hair in its natural state, and being proud of it.
One of the powerful things about this movement, after all, is women wearing their hair natural despite years and years of being maligned and being told that their natural hair is not beautiful, or even professional.
None of the women featured in the article, for example, would get fired because of their natural hair. The same can't be said for a black woman.
On Facebook, the conversation around this article is still brewing. One user wrote:
I'm not gonna lie this really gets me mad though. Like the natural hair movement is such a beautiful movement. The fact that there are absolutely no women of color on the exact movement that embraces the texture of "black hair" is so damn insulting. I don't usually find things offensive but this is a slap in the face to all of the women and men who are paving the way for self-love and self-acceptance for people of color.
Mic has reached out to Popsugar and the article's author for further comment.