When chef April Bloomfield wants to escape, she cooks tomato sauce. Here's where she goes.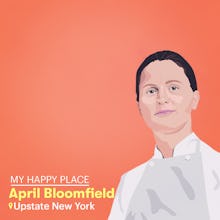 In My Happy Place, we talk to some of our favorite people about their emotional connection with an unforgettable destination.
British-born, New York-based chef April Bloomfield runs city hotspots like the Spotted Pig, the Breslin and the John Dory Oyster Bar, along with a food-focused bed and breakfast Coombeshead Farm in Cornwall, England. But between the chaos of leading multiple acclaimed kitchens, the James Beard Award-winning chef takes some time to unwind and, unsurprisingly, cook upstate, in a country house just hours from Manhattan. We spoke with the chef at New York's Pier 46, where she was launching her neighborhood tour guide with S.Pellegrino.
"My Happy Place is my little house upstate, in Accord, New York. I like spending time in the garden, not that I have much of a garden — I don't have time to grow anything. It's really a yard with grass and trees with some flowers. I love going out there and listening to birds and seeing the wildlife, watching the deer."
"I get there once a month if I can. I cook a lot more upstate than I do in the city because I'm pretty much working when I'm in the city. I've been working on a lot of ramen broths. I haven't elevated myself to making noodles quite yet but one day I will. I like to make big, bulk stuff, so I'll make a big batch of tomato sauce and cryo-bag it and put it in the freezer so when I'm up there I can just open a bag and cook some pasta and not think about it too much."
"I do a lot of outdoor grilling up there too. Sometimes I buy from my butcher shop, White Gold [on Manhattan's Upper West Side] and I'll get produce from farmers markets and farmstands up where I am. I've got this great little farm called Westwind Orchard, which is 10 minutes from my house.
"There's also a great brewery, called Arrowood Brewery, which has beer, cider, all that. It's humble, which is perfect."