Lee Garrett, 'Bachelorette' contestant accused of racism and sexism, is on a Twitter redemption tour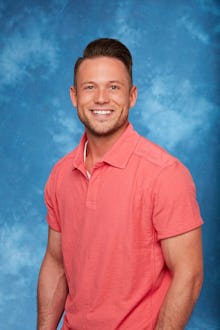 The Bachelorette's most problematic contestant seems to be trying to redeem himself.
Lee Garrett, whose racist and sexist Twitter history came to light in May, is finally responding to the tweets that made him the subject of negative press. Taking a page from our president's own Twitter playbook, Garrett announced on Monday that he was "wrapping [his] fists in gloves for battle with fake news."
On his now-private Twitter account, the singer-songwriter from Tennessee posted a series of replies to his controversial past tweets, including one from May 2016 in which he mused, "When is the last time you actually saw a pretty feminist?"
In a now-deleted reply on Monday, posted more than a year after the original tweet, he wrote, "Take a joke. Seriously."
Garrett deleted that tweet, only to replace it with one that said, "Of course there are pretty feminists."
Replying to a July 2016 post that said former President Richard Nixon "should be completely exonerated and issued an apology," Garrett said he'd been using sarcasm.
In another Monday tweet, Garrett attempted to clarify the meaning behind a June 2016 tweet about the Pulse Nightclub shooting.
More than once, he suggested the press targeting his past tweets is "fake news."
Bachelorette star Rachel Lindsay eliminated Garrett after a tense two-on-one date with Kenny King. Garrett incited the ire of his fellow contestants — not to mention countless viewers — when he repeatedly used the word "aggressive" to describe King, who is black.
Garrett did not immediately respond to Mic's request for comment.