Missouri Republicans just slashed the minimum wage from $10 to $7.70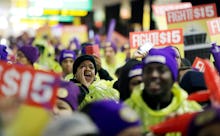 The minimum wage in some areas of Missouri could see a major cut following Republican lawmakers' passing of a bill forbidding local lawmakers from raising the minimum wage in their cities higher than the state-approved $7.70, HuffPost reported Monday.
The so-called "preemption law" came after St. Louis raised the minimum wage to $10 — a number that was slated to increase to $11 starting in January, according to the St. Louis PostDistpatch.
Republican Gov. Eric Greitens, who will let the bill go into law, said the St. Louis minimum wage hike would "kill jobs."
"Despite what you hear from liberals, [the wage increase] will take money out of people's pockets," Greitens told the St. Louis Post Dispatch.
Advocates pushing for a nationwide $15 minimum wage called the wage cut "disgusting."
"The move shows the utmost contempt for working people in [Greitens'] own state," Fight For 15, an advocacy group seeking to raise the minimum wage to $15, tweeted Monday.