SNES Games: Someone just uploaded a long-lost 'Rayman' demo — and you can play it right now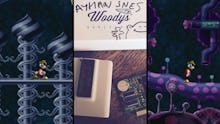 In 2016, the creator of Rayman shared images from a canceled Super Nintendo Rayman game, but, aside from a few screenshots, there was very little actual information about what it would have been like — until now, that is. In fact, you can play it for yourself.
Game developer Omar Cornut just uploaded an early build of the game to Dropbox for anyone to try out on their own. You'll have to download an emulator to get it working, according to the chatter on NeoGAF, but that's a small price to pay to get your hands on a piece of gaming history.
So, how'd Cornut get his hands on this mysterious, unreleased game?
"I borrowed it from Michel [Ancel, creator of Rayman,] who borrowed it from someone who had it," Omar Cornut said via Twitter.
Well, there you go. According to a Ancel's Instagram, the build Cornut uploaded was the very first playable build of the SNES game.
"Few screens, poor controls, no NPC[s]," Ancel wrote. "We made other levels and we should find them one day!"
The build Cornut uploaded isn't anywhere close to final, but hopefully Ancel can find some more prototypes lying around. Maybe Rayman could be included on the next mini SNES Classic? Please, Nintendo?
More gaming news and updates
Check out the latest from Mic, like this essay about the sinister, subtle evils lurking in rural America that Far Cry 5 shouldn't ignore. Also, be sure to read our review of Tekken 7, an article about D.Va's influence on one Overwatch player's ideas about femininity and an analysis of gaming's racist habit of darkening villains' skin tones.