'NBA 2K18' Release Date: 5 other sports video games set to arrive in September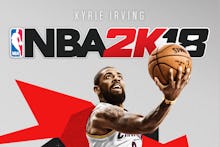 NBA 2K18 hits retailers on Sept. 15 for fans who pre-order the game for PlayStation 4, Xbox One and Nintendo Switch. Those who haven't pre-ordered will have to wait until Sept. 19.
The annual NBA 2K release has become something of a holiday for sports gamers, much like the date when Madden drops each year. It's a testament to the quality and popularity of the NBA 2K series.
Each year, the month of September gets more crowded with sports game releases, and 2017 is no exception. If you're a sports gamer who likes more than just basketball, you may find yourself in Gamestop or at your retailer of choice making difficult life decisions this fall.
NBA 2K18 Release Date: Five sports game releases to keep your game face on for
According to Gamestop, there are six games tagged as sports releasing in September — and that doesn't include NASCAR Heat 2, which is slated for a very busy Sept. 12.
Releasing alongside NASCAR Heat 2 on Sept. 12 will be Pro Evolution Soccer 2018 and NHL 18. Some may dismiss NASCAR Heat 2 as a minor blip on the sports video game calendar, which is fair, but no one can legitimately categorize PES 2018 or NHL 18 that way.
Both games have consistently produced high Metacritic scores: PES 2017 received an 85 for PS4, and NHL 17 produced a respectable 78 on the console.
NBA 2K18 will arrive within the same week, with its wide release coinciding with that of Road Rage from Maximum Games on Sept. 19. That's one many hardcore sports gamers may skip, but we obviously can't speak for everyone.
On Sept. 22, the much-anticipated and highly regarded Project Cars 2 will be available, and later that week, on Sept. 26, the uber-popular FIFA 18 releases.
If you have designs on buying and playing all of these titles, you might want to send your family on vacation and start saving your money right now.
More sports gaming news and updates
Love sports games? Check out more content from Mic, including tips for leveling up your NBA 2K17 MyPlayer, playing quarterback in Madden 17, our review of MLB The Show 17 and the classic Nintendo sports games we want to see on the Switch.