Theresa May denies reports Donald Trump may visit UK with little notice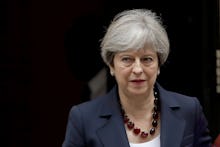 President Donald Trump — who has become one of the most unpopular figures in the U.K. following a campaign full of xenophobic rhetoric and insulting London Mayor Sadiq Khan after a terror attack — may drop in to visit British Prime Minister Theresa May unannounced to avoid mass protests, the Sunday Times reported.
Just one problem: May's office said on Monday it is "not aware" of the plan, according to Politico.
While May invited Trump to visit the U.K. after his Nov. 2016 victory in the presidential election, in June the protest-wary president was reported to have thought better of the notion until his standing with the British public improves. Trump was already an unpopular figured in the country, with its parliament considering banning him for hate speech as early as Jan. 2016. But the situation got much worse after he criticized Khan's response to a gun and knife attack in London this year, with Khan asking the government to rescind Trump's invitation.
The notion of a visit has subsequently hung in limbo, and has presumably been made less likely by May's difficult effort to set up a government in the wake of her disastrous decision to call parliamentary elections this year.
The White House has denied Trump will be dropping in to visit May unexpectedly as well. "It will not be in the next two weeks," press secretary Sean Spicer said.