Maryland official abruptly quits Donald Trump's controversial "voter fraud panel," report said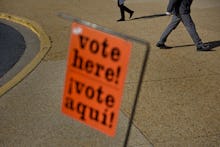 Maryland's deputy secretary of state has quit a controversial presidential commission on election integrity, the Baltimore Sun reported on Monday.
Luis Borunda informed the administration of Gov. Larry Hogan that he had resigned from the panel, which is chaired by Vice President Mike Pence, according to a Hogan spokesman, the newspaper reported.
The White House announced President Donald Trump's intent to appoint Borunda to the commission on June 21.
"Borunda's appointment prompted some head scratching in Maryland," the Sun reported. "Unlike in many other states, the secretary of state's office in Maryland has no role in voter registration or the administration of elections."
Secretaries of state, governors and other officials across the country have bucked a massive data solicitation from the panel's vice-chairman, Kris Kobach.
A watchdog group, the Lawyers' Committee for Civil Rights Under Law, on Monday filed two federal complaints against Kobach, questioning whether he has used his role on Trump's election panel to benefit his run for Kansas governor.
Earlier Monday, Maryland Attorney General Brian Frosh had called Kobach's request for millions of voter records, including names, partial Social Security numbers, addresses, military history and political party affiliation "repugnant," and the Maryland Board of Elections informed Kobach that state law rules out compliance with his data request.
Kobach has not responded to repeated requests for comment on the commission, which Trump has openly labeled a "voter fraud panel" and which has drawn condemnation from civil and voting rights groups that call it a potential mechanism to throw people off the rolls.
Maine Secretary of State Matthew Dunlap, a member of the presidential panel, said in an interview last week that he had concerns about what he sees as Kobach's "commitment to make it difficult for people to vote."
Still, Dunlap said of Kobach at the time, "I think that he's somebody I can work with fairly honestly, and if they try to put me in a position of advocating something I don't believe in, you can bet I'll have the bullhorn in my hand."
Dunlap announced Monday via Facebook that he would not be providing Kobach with the data he requested.
Asked for comment about the recent turmoil involving the commission, a White House spokesperson responded late Monday night: "President Trump has charged this commission with producing a set of recommendations to increase the American people's confidence in our election system."
The spokesperson continued, "The Commission has asked for voter rolls from publicly available data from all fifty states and the District of Columbia which can be submitted to federally secure systems. This is the beginning of a fact finding process that will help ensure the purity and transparency of our electoral process."
Failure to comply with the request, the spokesperson said, "at a minimum diminishes the process that will secure the sanctity of the individual vote and our democracy."
July 3, 2017, 10:18 p.m.: This story has been updated.