Court rules against Donald Trump's EPA chief Scott Pruitt on methane rules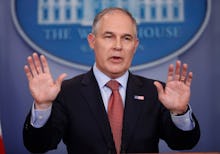 President Donald Trump's administration was dealt another blow in court on Monday, with an appeals court throwing out his Environmental Protection Agency's 90-day suspension on new oil and gas well emissions regulations, the Washington Post reported.
The U.S. Court of Appeals for the District of Columbia Circuit concluded the EPA was within its rights to reconsider new regulations but cannot simply change the date while it does so, according to the Post. The EPA is separately seeking to extend the date of the regulations moratorium to two years.
"The court says you can consider changing the rules but you have to do it the normal way," Natural Resources Defense Council director David Doniger told the Post. "You can't yank it out of existence on your say-so ... Changing the rules midstream can occur only after a thorough administrative review, including public notice and opportunity to comment, that ensures that there are good reasons for the change, backed up by sound policy and science."
As the New York Times noted, the emissions rule — intended to curb how much methane gas and oil wells are allowed to release into the atmosphere — is just one of "dozens of Obama-era environmental regulations" the EPA's new administrator, Scott Pruitt, is trying to eliminate.
Pruitt was a long-standing legal foe of the agency and seemingly one of Trump's appointees picked with the mission of scaling back their department's work. He has been meeting with lobbyists and executives from fossil fuel companies as of late for discussions on how to change the EPA's science vetting process and other regulations, he has removed scientists from advisory boards and he has even sought to undo one of the EPA's most basic functions, enforcing water pollution limits.