'WWE 2K18' Update: Female MyCareer won't make it into this year's release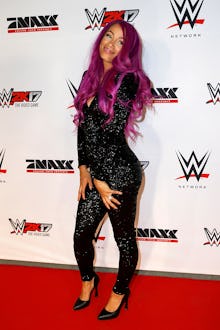 It took a few years, but the next version of the WWE 2K series will allow gamers to create and guide a female Superstar through the MyCareer mode.
I had an opportunity to go to 2K Headquarters in Novato, California for a development summit in June, and a collection of journalists and YouTubers learned about the long overdue addition to the mode.
Over the past four years the WWE has changed its depiction of female professional wrestlers. The promotion is now giving the top female wrestlers higher billing at events and stars like Charlotte, Sasha Banks and Bayley are arguably as big with the WWE community as their male counterparts.
It's only natural the WWE game begin to follow suit.
The MyCareer mode is a single-player experience that challenges you to create a wrestler and to guide your grappler through an entire WWE career. The mode was made popular in the NBA 2K series, but the concept made its way to the WWE 2K series in 2014 when WWE 2K15 was released.
Initially, the mode was a barebones version of what fans have become accustomed to with NBA 2K. Slowly, the WWE 2K development team has added depth.
During the summit, the ability to create images of heroic and villainous female characters was discussed, but it won't be making it into this year's game, according to a 2K representative.
A large part of the game's focus will be on its MyCareer mode. This year's game will feature an enhanced promo engine, free-roaming backstage, a new story line and a fresh upgrading system for your character. Last year's version was a bit stale as it would get repetitive after 20-30 matches. I didn't get an opportunity to test the game out, so I can only hope the new changes deliver more variety and longevity to the gameplay experience.
The game releases for PlayStation 4 and Xbox One on October 17.
Correction: July 5, 2017
More sports gaming news and updates
Love sports games? Check out more content from Mic, including tips for leveling up your MLB The Show RTTS player, the new story mode in Madden 18, a wish for the WWE 2K18 release and a detailed sports video game release calendar.