Joey Chestnut eats world record 72 hot dogs to win Nathan's competition in Coney Island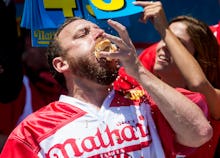 Joey Chestnut won his 10th title in Nathan's Famous Hot Dog Eating Contest on Tuesday, eating a record 72 hotdogs in 10 minutes: That's his new personal best, beating his 2016 record of 70. Miki Sudo won her fourth title in the woman's competition, eating 41 hot dogs in 10 minutes, according to ESPN. In second place was Carmen Cincotti, who managed to eat 62 dogs.
Chestnut may have consumed a total of about 20,000 calories — including 2,160 milligrams of cholesterol, estimated ESPN sports business reporter Darren Rovell on Twitter.
The 2017 contest marks the 10th time Chestnut has won the competition — the most since Nathan's first began hosting the event in 1972. The company does note that the contest's origins actually date back to July 4, 1916, when four immigrants held an informal contest to decide who was the most patriotic.
To win the title, Chestnut had to consistently put away an average of seven to eight hot dogs per minute for the entirety of the competition.
Chestnut will walk away with $10,000 in winnings, according to the personal finance site GOBankingRates, and estimates of his net worth range as high as $800,000. In addition to making money on the professional eating circuit, Chestnut also has sponsorships from companies including Pepto Bismol, which paid him over $100,000 in 2010 for his endorsement, according to Bloomberg.
Competitive eating is an intense sport, with a difficult training regimen. In a 2013 interview with the Hollywood Reporter, Chestnut said he typically prepares for a contest by fasting for roughly three days. In that same interview, Chestnut estimated that he competes in about 20 events per year.
Chestnut's win makes him one of the most decorated athletes of all time, assuming, of course, that you consider competitive eating to be a sport. At 10 national championships, Chestnut is now tied with Yogi Berra and Rafael Nadal for having the second most championship titles of any individual athlete in any sport, as SB Nation noted in a tweet.